---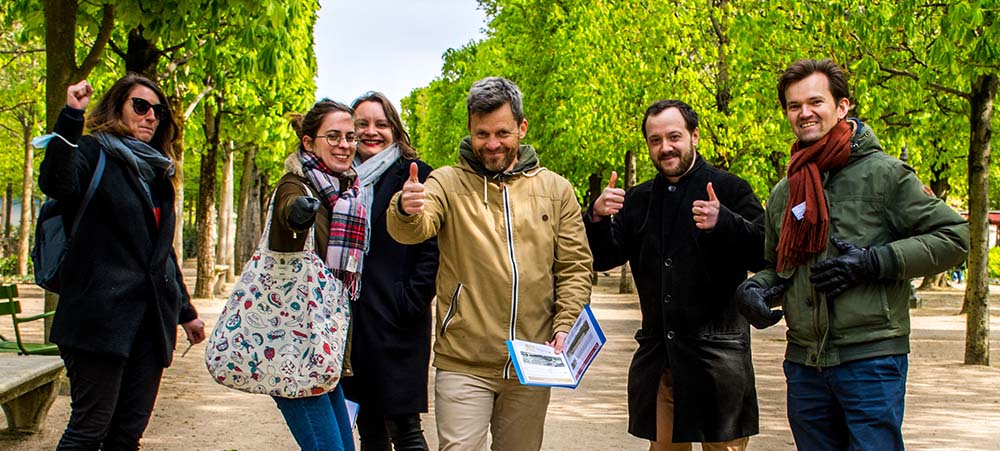 Are you looking for an activity to strengthen the bonds of your team? Are you looking to challenge your colleagues with a fun activity? Booster2Success has selected the best team building in Paris experiences for you to unite your colleagues by creating unique team building and memorable challenges!
Mona Lisa invites you to the Louvre Museum team building
You're about to put on your detective hat among some of the most beautiful works of art in the world! Get together with your colleagues and discover our treasure hunt in the heart of the gorgeous Louvre Museum. With riddles, quizzes and challenges, this treasure hunt will help you rediscover the museum's iconic works as well as discover more original masterpieces. Lasting two hours, you will be able to explore the museum independently after a quick briefing by our guide, until the medals ceremony!
For larger groups, this team building activity can be transformed into an escape game for up to 120 people! In search of the secret of immortality, your sense of observation and your team spirit will lead you to victory. These team building activities in Paris are ideal for strengthening your team spirit in a fun and challenging way, building on communication and team skills.
Team building in the Louvre museum – 8 to 60 people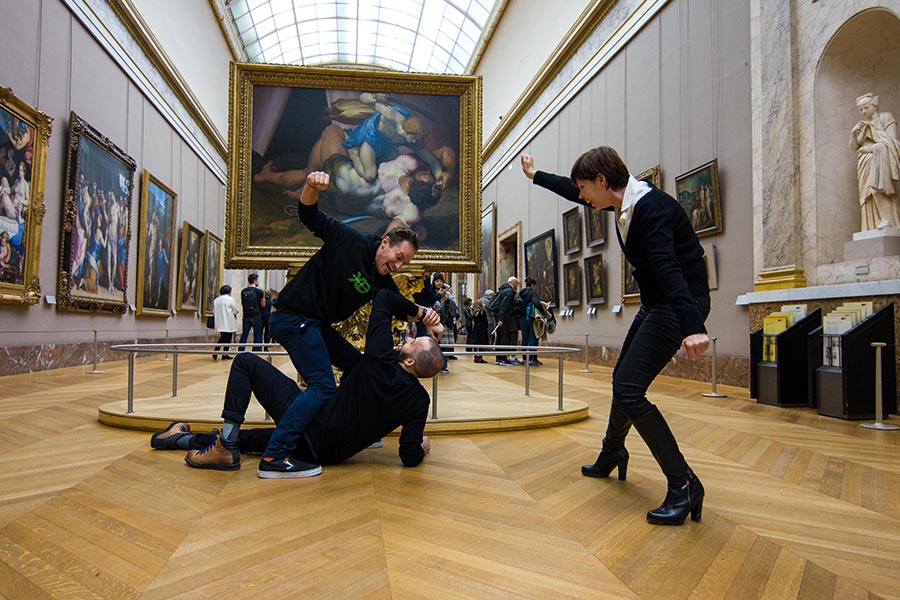 The Tuileries treasure hunt: an original team building in Paris
For this team building treasure hunt in Paris, Booster2Success opens the field of possibilities. It is in one of the most beautiful Parisian gardens, dive into our immersive investigation during this large group team building experience. Invite up to 250 colleagues and go in search of the marquis' treasure, hidden in the middle of the Tuileries. 
This outdoor activity is ideal for developing communication skills within the different departments of your company. Lasting two hours, and available in French and English, it is in an idyllic setting where you can play with the creativity and logic of your teams. Keep your eyes open, because in between the Louvre and the Concorde square, the treasure is buried in the middle of the Parisian wonders!
Enquiry at the Tuileries Gardens – 80 to 250 people
» READ ABOUT – Corporate scavenger hunt in the Palais-Royal district: playful and cultural team building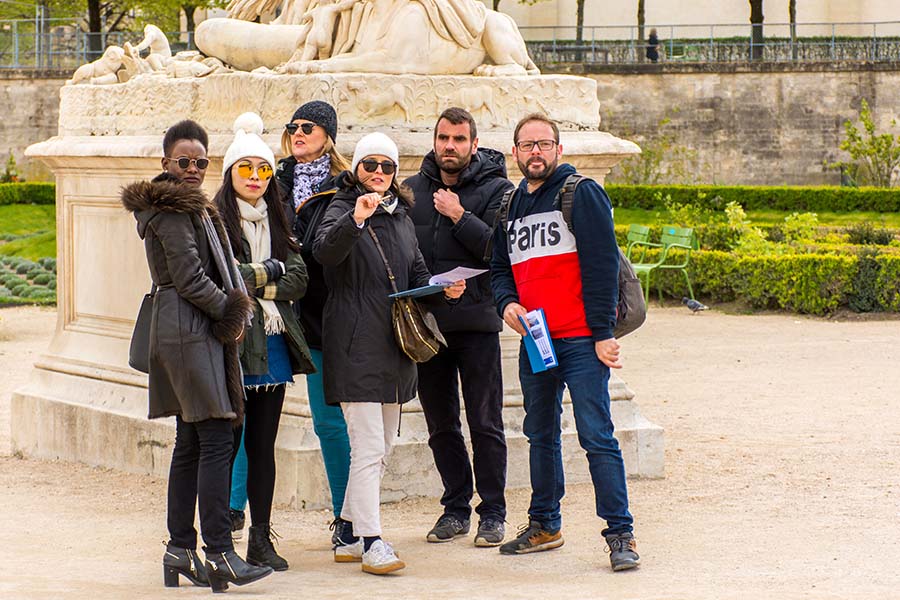 Summer Olympics all year round: a unique team building idea in Paris
We continue our selection of the best team building experiences in Paris with a love of fun and competitive sport challenges! 
Booster2Success is waiting to set you up as a competitive warrior and offer your team a day of challenging indoor team building experiences. In this holiday themed setting, plant your feet in the sand because you're going to need traction to win this game. Challenge your colleagues all year round and bring out their sporting talent in this adjustable indoor team building. Guided by an animator until the victory, your team will have to stay united and motivated. This indoor activity in Paris is perfect to strengthen your team spirit with unforgettable moments.
The Gold medal of the indoor team building in Paris – 20 to 250 people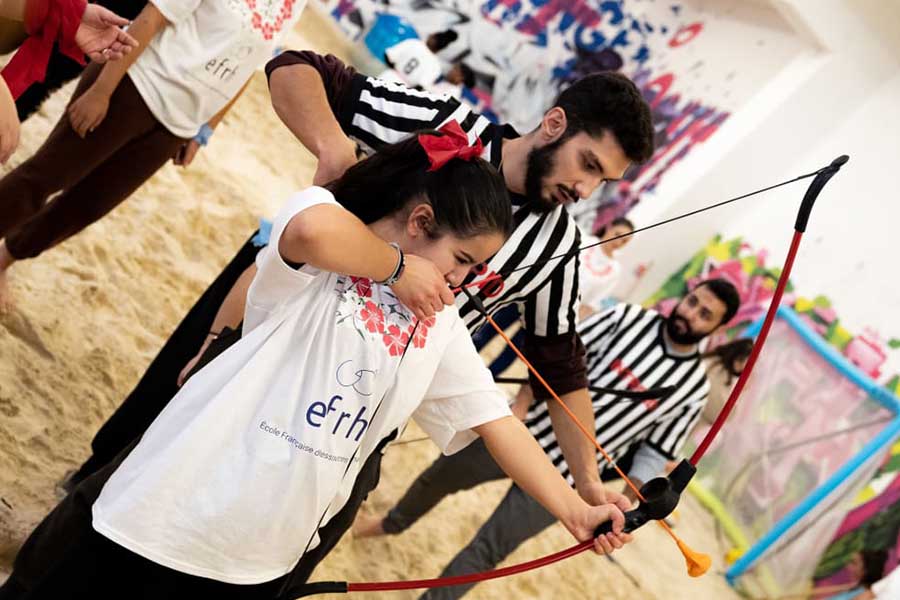 Scavenger hunt team building in the Paris: discover the secret covered passages
Thought you knew all the secrets of Paris, did you? Well, let Booster2Success open the door for you to a unique universe: the Parisian covered passages! And what better than a team building scavenger hunt to discover the mysterious history of Paris? Invite your colleagues to take part in this fun and cultural treasure hunt that will raise your group's energy and observation skills. Divided into teams, you will set out to conquer the district with many riddles on the streets of 19th century Paris. So follow the guide, the secrets of the covered passages are awaiting you!
Adult scavenger hunt in the covered passages – 8 to 60 people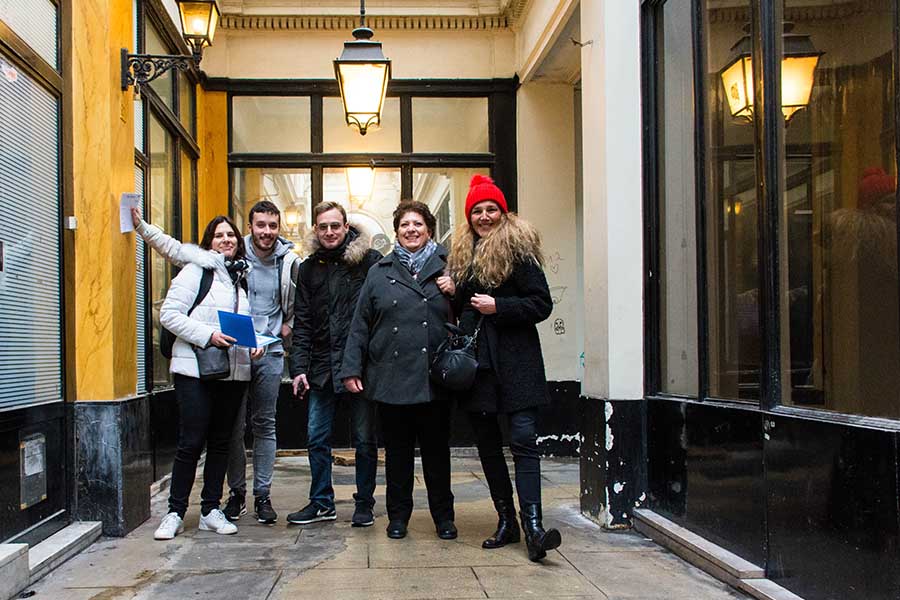 The best team building escape game in Paris: welcome to a magical escape room
It's time to put a little magic into your team! This escape game team building experience isn't just one of Booster2Success' most popular experiences, it's ranked as one of the top 50 best escape games in the world! Be the hero of your childhood stories in the middle of a real movie set. With team spirit, you will try to escape in a setting of enchanted tales and puzzles awaiting you. This unforgettable one hour and a half adventure will awaken all your senses and integrate trust and communication skills between colleagues. Ready to make magical memories?
Enchanted escape room team building – 6 to 36 people
» ALSO READ – Photo and quiz team building on a smartphone: fun and creative activity in Montmartre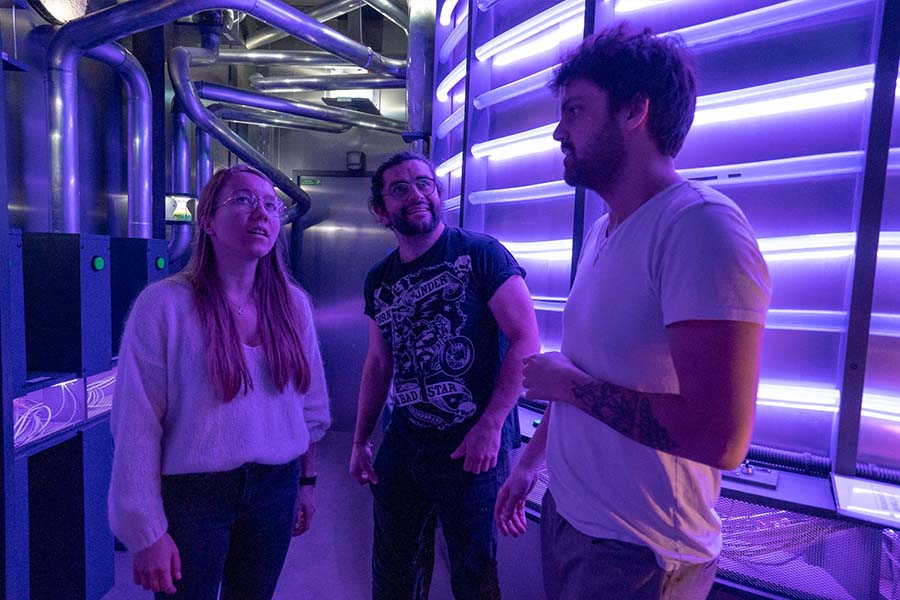 Survival at the heart of this team building around Paris
Your colleagues are everyday heroes, and after this survival team building, they will also become true everyday adventurers, ready to face each working day with strength and passion in this next team building experience! Shake up your routine and comfort level by participating in our survival team building challenges! Like Robinson Crusoe, you will be put in real survival conditions around fun and sport themed activities.
In the heart of a forest, immerse yourself in one of the best team building activities for up to 300 people. We leave you the choice for the duration of your experience: half a day, a full day, or for adventure lovers 24 hours with a night under the stars. Who will survive this great team challenge? 
Commando team building – from 20 to 300 people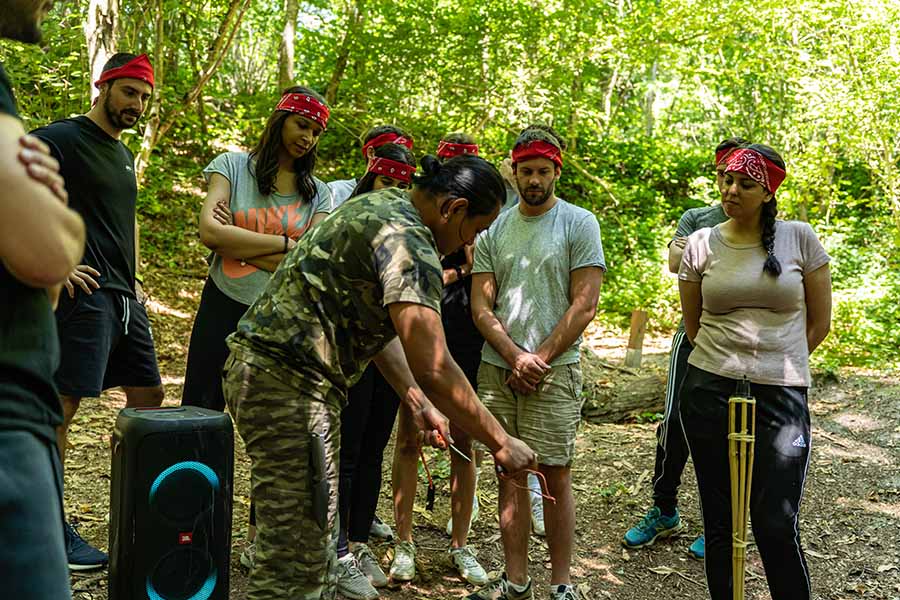 Team building treasure hunt in Paris: the Musée d'Orsay opens its doors to your team
Can you find the mystery work of the Musée d'Orsay? Art lovers will find this treasure hunt at the Musée d'Orsay a rich choice, selected by Booster2Success' customers as among the best team building experiences! By following a fun and cultural path, you will discover the most beautiful works of the museum which will guide you to the key to success.
Take a stroll through the museum activities with many surprises in store for you, based around challenges that will put your team spirit and your logic to the test! Under the gaze of Monet, Van Gogh, Renoir, and so many others, come and decipher the riddles of this playful and artistic treasure hunt in the heart of one of the most beautiful museums in the world!
Cultural team building in the Orsay museum – 8 to 40 people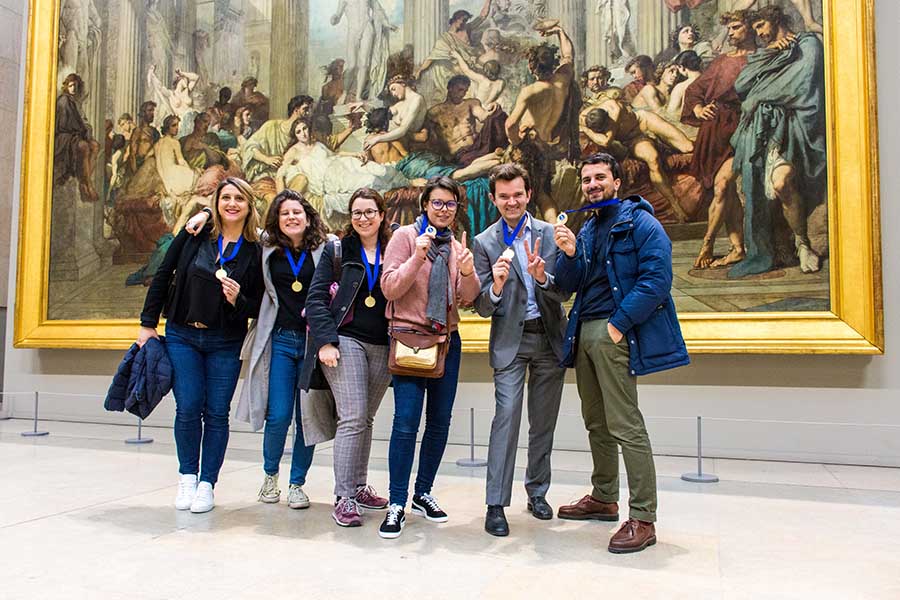 Team building activity near Paris: a scavenger hunt in the heart of Senlis medieval city
The medieval city of Senlis is one of France's cultural and historical charms and treasures. Step back in time and discover this small town full of mysteries during our team building treasure hunt on the same streets that knights and maidens strolled. In an immersive treasure hunt, you will walk through the narrow streets of the old city to discover its hidden treasures. Fun and challenging activities are ideal for strengthening your team cohesion while soaking up the charms of Senlis. It's one of our most requested team building activities from our collection!
Senlis team building – 20 to 60 people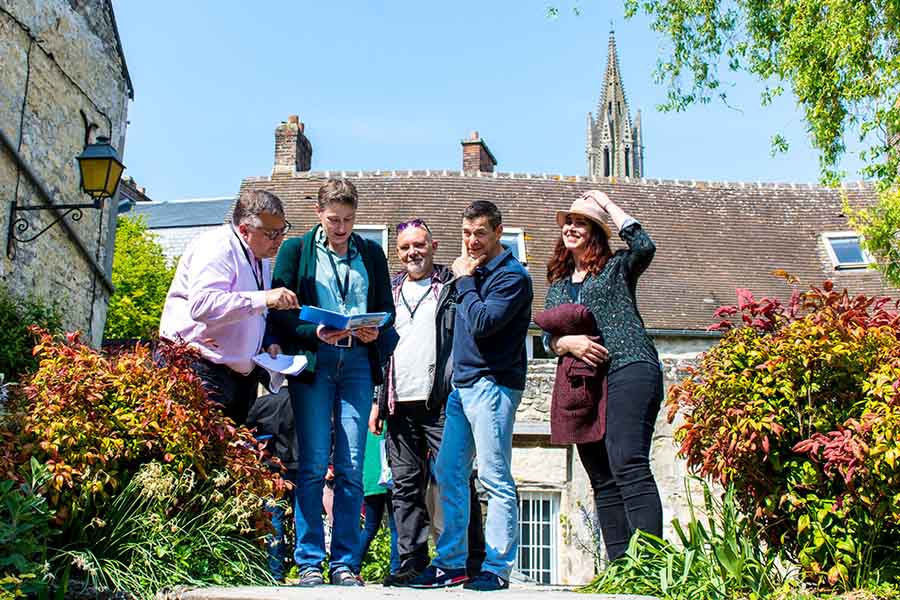 For treasure-hunting enthusiasts, Booster2Success also shows you the best areas to explore for a team building in Paris.
Photo credit: Booster2Success
---
Booster2Success creates and organises cultural and playful team building in Paris.
CONTACT US for your next team event in Paris.