---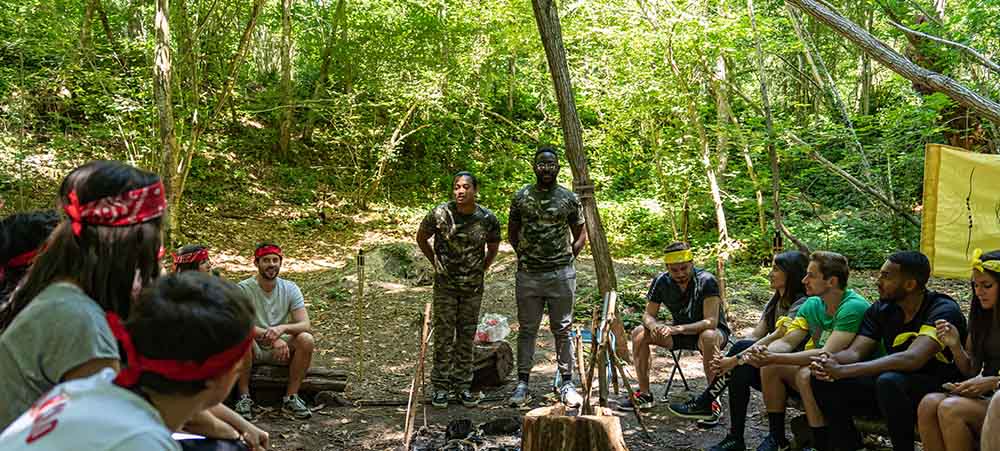 Do you feel like getting out of your metro-work-sleep routine? Are your colleagues dreaming of escape and change? Booster2Success offers you a return to basics in a team building full of surprises and adventures. Put on your hiking boots, we are taking you behind the scenes of this survival team building.
Reveal the hero in you with this commando team building
Are you ready to walk in the footsteps of Robinson Crusoe? Wrangle your team of adventurers and embark together on this unforgettable survival experience! This survival team building will reinforce your team spirit around fun and active tasks. What is the secret to survival? A united team and a strong mind…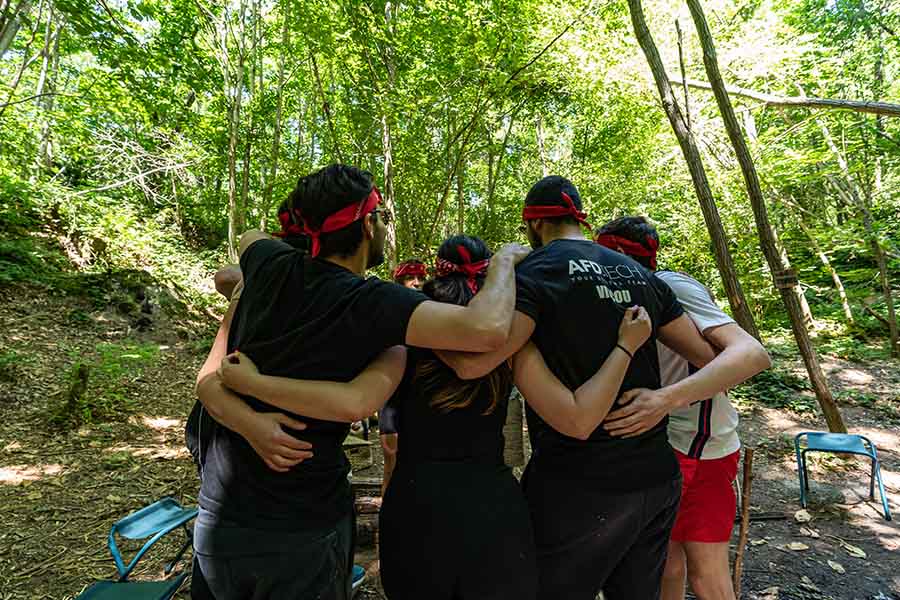 Say goodbye to your comfort for a day and dive into real survival conditions. At the heart of a forest about an hour from Paris, you will be put to the test through multiple activities. Discover the hidden talents of your survival teammates by fighting together to be the best.
The strength of this commando team building lies in each of your colleagues. A tip: communicate well to win!
» READ ABOUT – Original team building activity to do with your colleagues in Paris: Axe throwing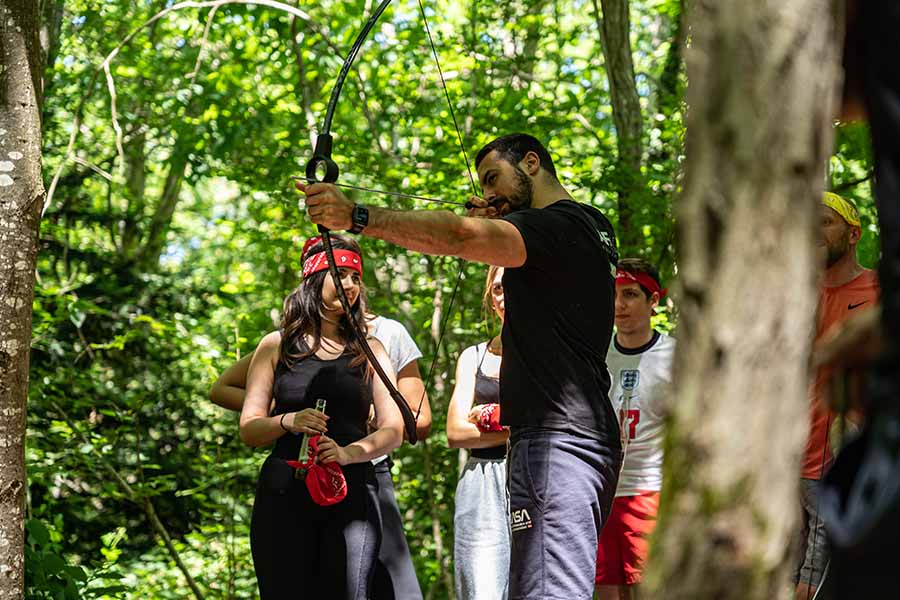 Little survival manual: the details of this survival team building
Open from April to October, this outdoor team building can accommodate up to 300 participants. Whether they are a lover of comfort or adventure, each person will find their place in this team building chosen by Booster2Success. This fun, sporty, and unique course is waiting for you to strengthen your team unity and shake up your daily routine.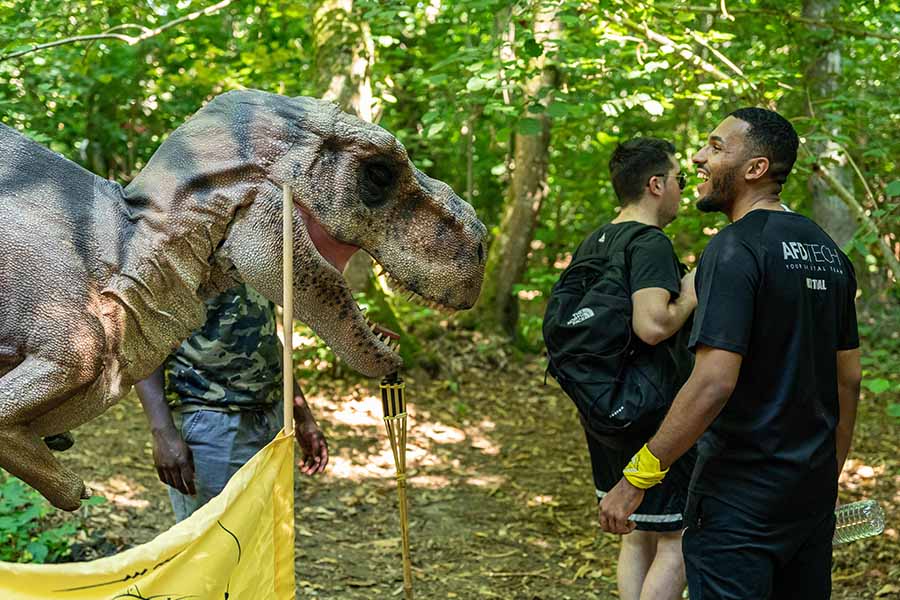 You will choose your own adventure (from the three timeframes available) to personalize your team's experience. These team building exercises can vary in time based on your preference – a half day, a full day, or, for the warriors, 24 hours! You will be given equipment to spend the night under the stars or under a nice tent. For the full day and the 24 hours, we will provide you with the dinner of champions, enough to get your strength back.
This survival team building offers you the best of collective and stimulating activities. Your team will be surrounded by hosts who will help and challenge you throughout the course, so you will live this adventure like real survivors until victory!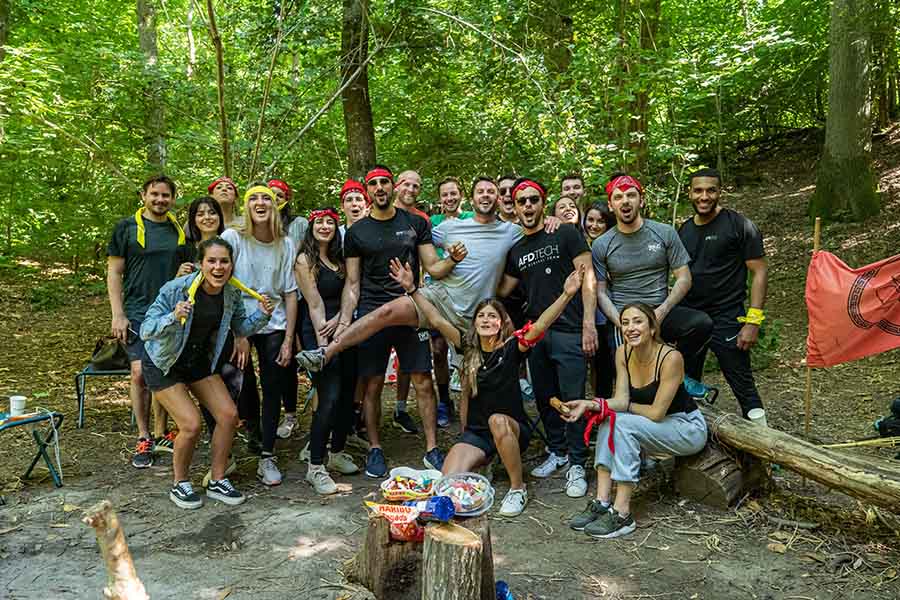 Reignite the flame in your colleagues' eyes with this commando team building that will give them confidence in themselves and in your team. At the end of this unique experience, you will find comfort in your daily life and memories to bring back to the office.
Don't wait any longer – contact us to make your team heroes of survival, or for our great indoor Olympic sports activity! In another genre, discover our team building in the Tuileries garden for a group of up to 250 people.
– LOCATION: Ville-Saint-Jacques Forest (77130)
– SEASON: April to October
– DURATION: 3 timeframes → half day | full day | 24H: 1 PM – 1 PM
– NUMBER OF PARTICIPANTS: 20 – 300 participants
– LANGUAGE: French and English
---
Booster2Success designs, selects, and organises events in Paris.
CONTACT US to organise a corporate event in Paris and its surrounding areas.