---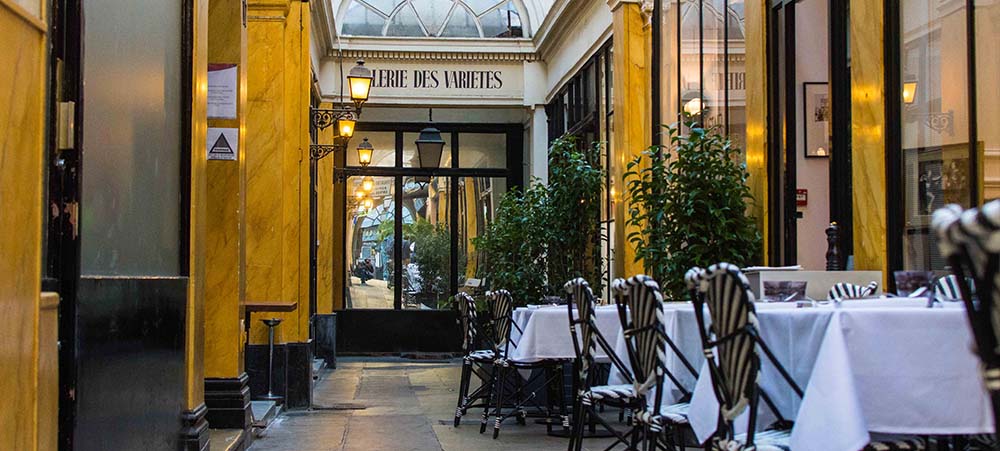 Paris is an amazing city… There is a special place that all Parisians and tourists have appreciated for lifetimes: the covered passages in the Opera district! The historical passages were constructed in the 19th century and are similar to souks of North Africa. At that time they were really popular among Parisians and still are today. You'll find some really nice places to have lunch/dinner passages along the way. Here is a list of our favorite addresses to enjoy unique restaurants in Paris. Experience something special!
Unique restaurants in Paris: the legendary Bouillon Chartier
Close to two famous covered passages (Verdeau and Jouffroy), step in the first restaurant of our list: the legendary brasserie Bouillon Chartier.
This unique restaurants in Paris was launched by the Chartier Brothers 120 years ago. After more than 50 millions meals served, the success has been achieved! In Belle Époque decor and a warm and welcoming atmosphere, you will enjoy a traditional French cuisine for a really great price. Be aware that the waiting line can be quite long sometimes, so you will have to be patient. However, you will find yourself a regular next time!
Bouillon Chartier – 7 rue du Faubourg Montmartre 75009 Paris
» READ ABOUT –Team building activity: an adult scavenger hunt in the Parisian Covered Passages
Voir cette publication sur Instagram
In the Passages des Panoramas: Canard et Champagne a sparkling match!
Let's continue our quest to find the best unique restaurants in Paris. If you are a poultry lover and a champagne connoisseur, the restaurant Canard & Champagne should please you. This incomparable restaurant in the heart of Paris (in the famous passages des Panoramas), will charm you with it's original decor.
On the menu, as you could imagine, there's alot of "canard" (duck in French) options, Foie gras, confit, fillet of duck breast or burger– you have plenty of duck choices! Don't forget the wonderful champagne selections to pair with your meal!
Canard & Champagne – 57 passage des Panoramas 75002 Paris
Voir cette publication sur Instagram
Unique restaurants in Paris: the Dépôt Légal, made with love
In our hunt to find you the best unique restaurants in Paris, here is an original one. Two steps from the marvelous Galerie Vivienne (one of the most beautiful Paris' covered passages), the Dépôt Légal restaurant will catch your eye.
The building is a historical piece of architectural beauty, once belonging to the National Institute of Art. The Dépôt Légal restaurant was created by the talented Christophe Adam. This famous chef launched the delicious éclair dessert brand: L'Éclair de Génie. In his restaurant, you will enjoy healthy food and of course, the famous pastries of chef Adam!
Le Dépôt Légal – 6 rue des Petits Champs – 75002 Paris
Voir cette publication sur Instagram
For all the food addicts, you should also have a look at our article about a selection of restaurants in the Opera district.
Cover photo credit: Booster2Success
---
Booster2Success is always searching for the best restaurants close to its team building activities in Paris.
CONTACT US to request our help to organize an event in Paris.