---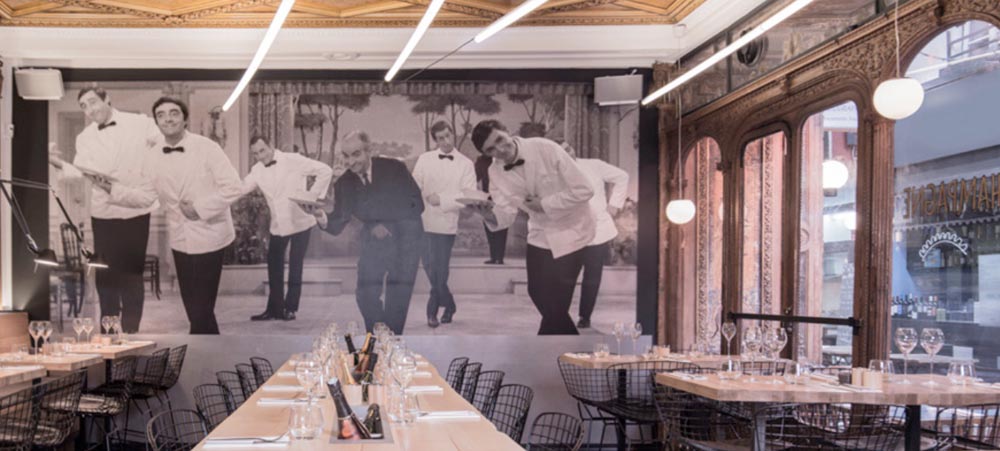 This restaurant will be sure to please lovers of poultry and bubbles. Let's visit the "passage panoramas" street to find an original restaurant in Paris Opera district: Canard (Duck) & Champagne. Humor and flavor are both on the menu.
An original restaurant in Paris Opera for a sparkling mix

Nestled in the middle of the splendid Passage des Panoramas, this original restaurant in Paris Opera welcomes us in a beautiful and refined location. It is Louis de Funès (a famous French actor) who sets the tone at the back of the room, in a cult scene of the movie "Le Grand restaurant".
With its chic and elegant decor, complete with wood paneling, you will settle comfortably on high tables. An option outside, overlooking the passage of panoramas, is also available.
» READ ABOUT – Touristic Team Building in the Louvre Palais – Royal district
A quality cocktail at an affordable price

The menu here is simple and duck is in the spotlight. It is delicious and very affordable for an original restaurant in Paris Opera. Foie gras, confit, duck breast or even burger –  the duck is the star on this menu. Sides include matchstick potatoes or potato purée.
The duck is tender and tasty at the same time. The pairing with the champagne is subtle and surprising. A wide range of champagne is offered, from brut to white and rosé. In total, more than 180 crus are available to enjoy responsibly.
For the lunch, the price is up to 17,50 € for a starter + main dish or main dish + dessert. If you come for dinner, the starter + dish is 28 €, add 6 € to offer you a glass of JM Cuvée Canard & Champagne. For thirsty gourmands, the starter + main course + dessert + 3 glasses menu is 64 €.
When duck and champagne meet,  the marriage between these two French favorites is successful. For Canard & Champagne, it's a big yes. Let the party begin at this original restaurant in Paris Opera.
Canard & Champagne – 57 passage des panoramas 75002 Paris
Photo credit: Canard & Champagne
---
Booster2Success is selecting the best Parisian restaurants for its community.
CONTACT US to benefit from our services during an event or a special occasion.