---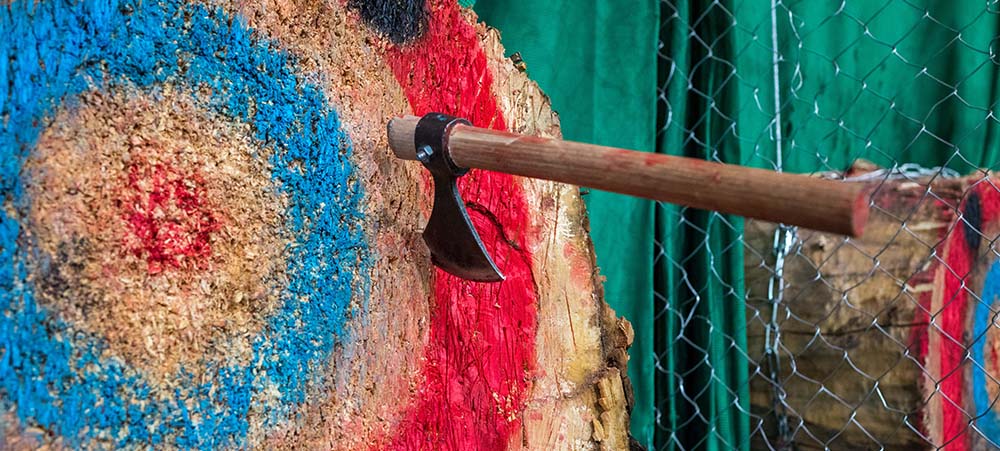 Are you looking for an original team building activity to consider with your team? Why not opt for a new trendy activity: axe throwing? This sporty activity will allow you to promote communication between colleagues and to consolidate team cohesion. Furthermore, you're sure to have an original and enjoyable experience!
A great group bonding sports activity in Paris
Bring your teams together and have fun with your colleagues around a leisure activity that is as friendly as it is original! Axe throwing is a good way to expend energy and recharge your batteries when you spend your days sitting behind a desk. It allows you to evacuate stress and to go beyond the hierarchy!
Indeed, axe throwing puts everyone on the same level. It is still a new sport in France and not many people have discovered it yet. Thus, the word is progressively freed up between employees. We no longer see each other as mere employers/employees, but as members of the same team. We even come to realise each other's qualities and strengths. In short, it is the promise of a more cohesive group.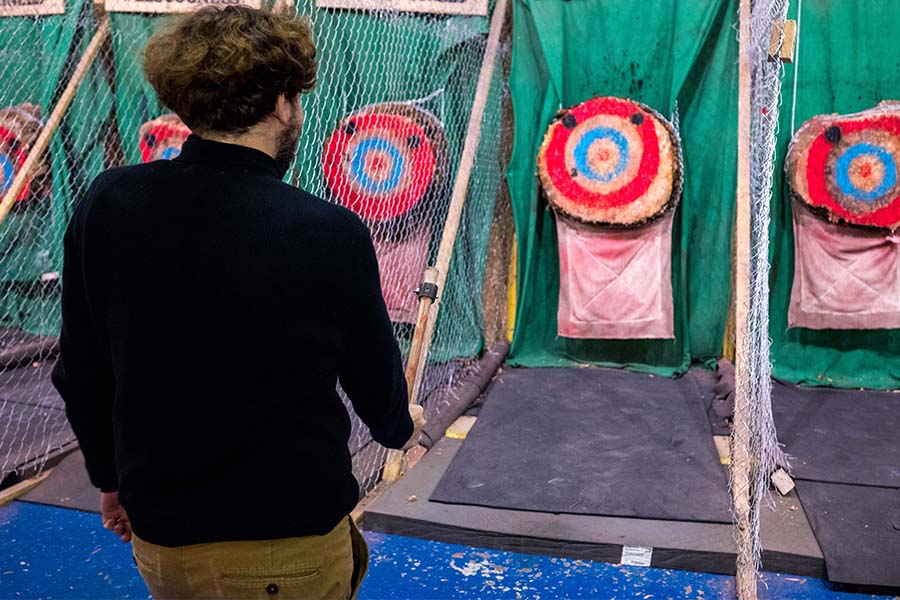 A unique team building event to unite your teams
Initiate yourself to the art of axe throwing with your colleagues! Booster2Success has selected a fun and atypical activity, far from the demands and tensions of the office, located in the north of Paris city. What better way to unwind and relax while sharing exceptional moments with your colleagues? Find an enthusiastic and friendly atmosphere, patient and forgiving instructors who will teach you new skills.
» READ ABOUT – Original and fun team building in Paris and around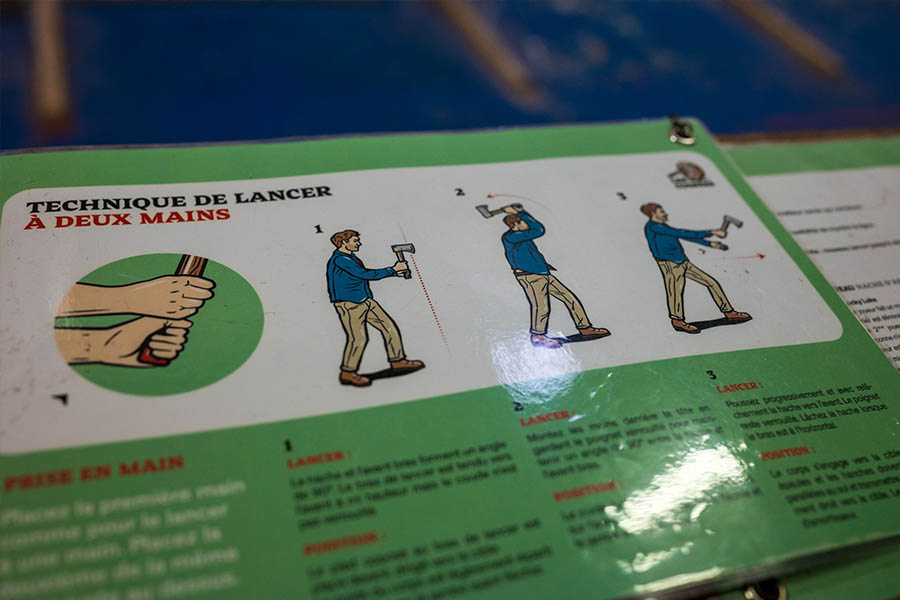 Be the first to hit the target and challenge your colleagues to a tournament! The activity can accept up to 30 people simultaneously for a simple 1 hour session. However, you can book for 60 people who will be divided into two teams of 30 people. The first team will be able to participate in a 1 hour axe throwing session while the other one will have refreshments. It is then the second team's turn for another 1 hour session.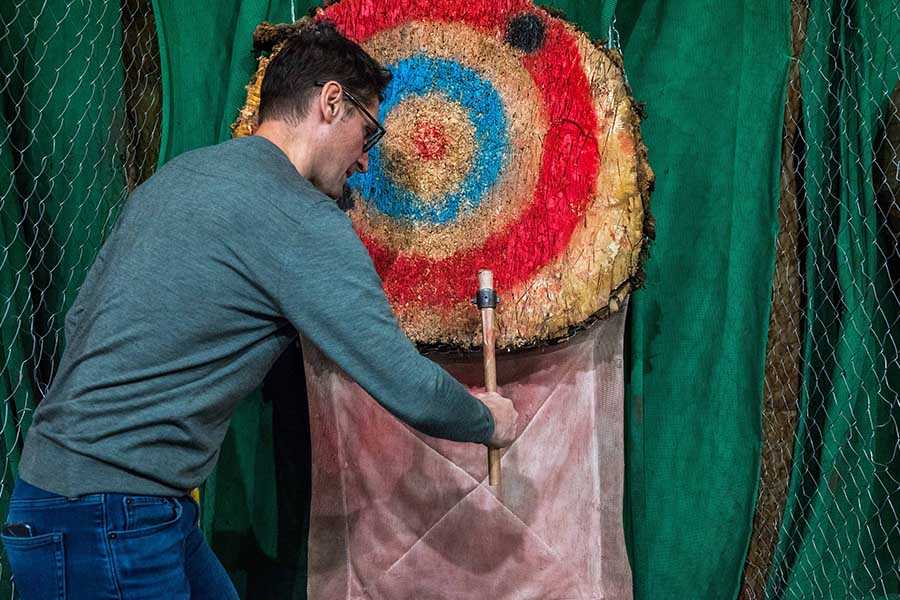 The different axe throwing formulas
You have two formulas available for this original team building in Paris:
The knockout tournament:
Lasting only 1 hour, this session starts with a quick presentation of the safety protocols and the different axe throwing methods (one or two handed). It then gives way to the training of the players under the watchful eye of the monitors. This lasts about 1/4 hour. Teams will then be set up. The aim here is to bring together employees from different parts of the company and have them compete in a big tournament. There are usually three matches per team. The session ends with the discovery of other axe models (Canadian, double-edged, etc.) and a group photo.
The double-edged tournament:
Lasting about 2 hours, this session is almost identical to the one presented above. It begins with a presentation of safety protocols and axe throwing methods. Then, it continues with the training of the players and the constitution of the teams. These will compete in 3 levels of tournaments: the pool phase, the final phase and the compensation phase.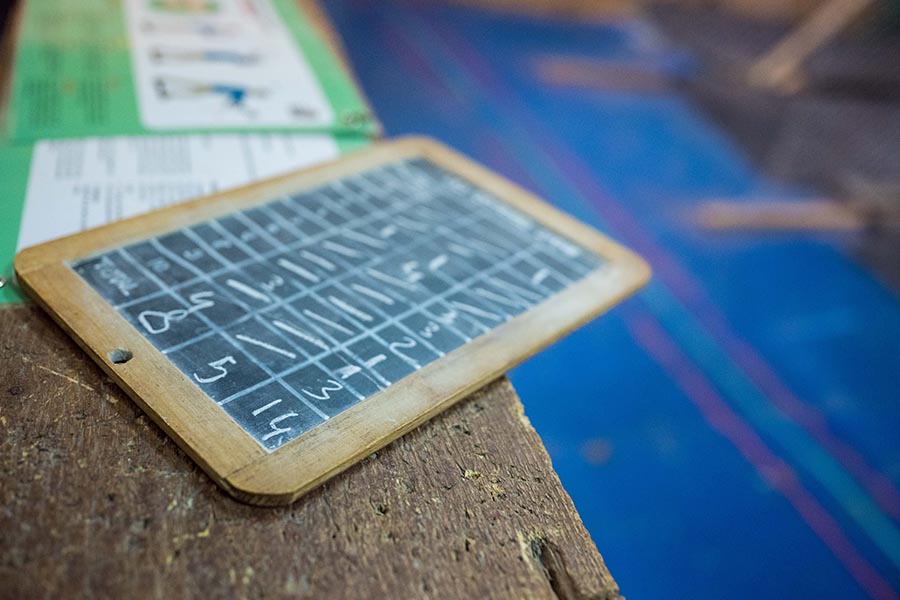 This session also includes an interval where your employees will be able to hydrate and eat! They can be offered small cakes, spreads or even charcuterie boards. The session ends with a test of the different axes and a group photo.
Contact us to get more information on the different formulas or other indoor activities in Paris.
Photo credit: Booster2Success
---
Booster2Success is a digital and event communication agency.
CONTACT US to organize a corporate event in Paris.