---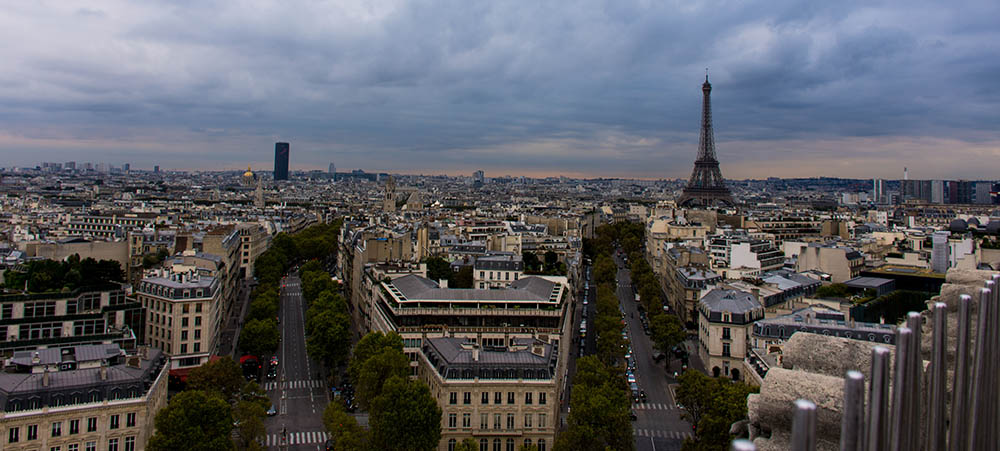 If you are visiting the Arc de Triumph district during your stay in Paris, you should stop for lunch or dinner somewhere nearby. Some places can be full of tourists. That's why we have chosen a nice selection of restaurants near Champs Elysees for you.
Eat only the best French food with Chef Christian Constant at Les Cocottes Arc de Triomphe
To start our list of restaurants near Champs Elysees, we suggest you head towards the chef Constant restaurant called Les Cocottes (French for a small casserole dish).
The chef welcomes you in his bistro-style restaurant. Here the dishes are served in a small dutch oven made of iron; the French call theses cocottes. The chef has been heavily influenced by his mother and grandmother in his cooking, so this is French Family dining at its best. We recommend you start with deviled egg from Granny Constant's recipe, continue with a cocotte main dish like caramelized potatoes stuffed with pig's trotter and end your meal with the famous chocolate pie from the chef! What else do you need? Nothing more, except maybe l'addition s'il vous plaît (the bill please!)
Do you want to go to the Eiffel tower district instead of Champs Elysees? Don't worry Chef Constant also has a Les Cocottes restaurant near the Eiffel tower.
Les Cocottes – 2 Avenue Bertie Albrecht, 75008 Paris
» READ ABOUT – Fun treasure hunt in the Arc de Triomphe district
Voir cette publication sur Instagram
Restaurants near Champs Elysees: getaway on the Bustronome
A complete change of pace awaits you at the Bustronome… But what is this Bustronome? The concept is simple: ride around Paris while eating. Get on board a high-end bus with a sunroof,  and gaze out at the city and its iconic monuments. While enjoying the panorama, taste the best French cuisine. For 2 hours on the road, you enjoy a nice lunch or dinner prepared by the chef Sébastien Nicolleau. The menus are seasonal and available with 4 or 6 different choices…
The Bustronome is now also available in London as well.
Le Bustronome – Corner with Kléber avenue 75008 Paris
Voir cette publication sur Instagram
Les Voiles the Britain region in Paris
Next stop, to starboard, in the direction of the Brittany region… but in Paris! We will cast off at Les Voiles restaurant. In our list of restaurants near Champs Elysees this one is quite original. This restaurant near Place des Ternes offers a large choice of fresh fishes and quality seafood, and its  interior decor is nautically themed with its sailcloth and sailing paraphernalia. Chef Thomas Olive offers a simply elegant and fresh menu. If you love fish or are a big Brittany fan, this restaurant near the Triumph arch is made for you!
Les Voiles – 35 rue Bayen 75017 Paris
Voir cette publication sur Instagram
Street food in Paris: let's discover the mysterious Miss Kô
Designed by the famous interior designer, Philippe Starck, the restaurant Miss Kô welcomes you for a truly unique experience.
This place can be considered as a restaurant, a refectory, a tea room or a party spot! Take a culinary and aesthetic trip in the huge 5000 sqft dining room. At Miss Kô Restaurant, European cuisine is mixed with Asian in a delicious fusion. Enjoy one of the fan Bo Buns cooked in a wok or some miniature sushis & rolls. Towards the end of the night, you could sample one of the tailor-made cocktails at the Bar. Miss Kô is always there for you…
Miss Kô – 49/51 avenue George V 75008 Paris
Voir cette publication sur Instagram
A French bistro near Champs Elysees: restaurant Hide
We can't finish our list of restaurants near Champs Elysees without introducing you to the chef Hide Kobayashi and his hidden restaurant in Paris called Hide. Mr Koba was trained in Japan and France by famous Chefs such as Alain Ducasse or Joël Robuchon. His cuisine is a French traditional style, but one with easy to stomach prices. Why don't you try the beef bourguignon adapted at  "Hide" with Parmesan cheese? For dessert the chocolate millefeuille served with a chocolate ice cream is a must!
We are already drooling over it, and it's gonna be hard to do sightseeing after that…
Le Hide – 10, rue du Général Lanrezac 75017 Paris
Voir cette publication sur Instagram
Cover Photo credit: Booster2Success
---
Booster2Success selects the best restaurants in Paris around its corporate team building activities.

CONTACT US to benefit from our expertise to organize an event in Paris.