---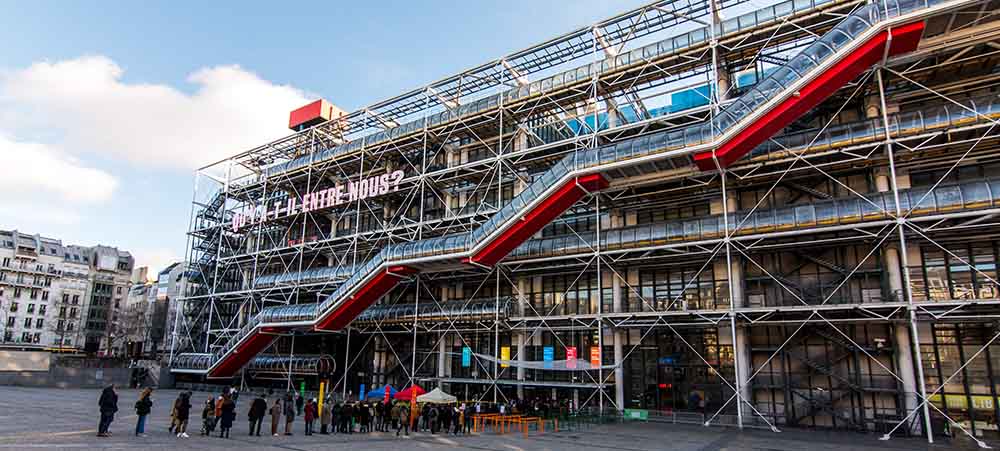 Thanks to our indoor team building in Paris at the Centre Pompidou museum, you will be able to improve your team spirit and the art of working together with your colleagues. A truly relaxing and convivial moment between colleagues during an original afternoon.
A real mix of innovation that combines team building, art & culture, and collective laughter guaranteed! It is an ideal activity for a company seminar or a professional event.
Corporate treasure hunt in a museum at Beaubourg: the concept
The Centre Pompidou is a multi-disciplinary museum born of the desire of the French President Georges Pompidou, a great lover of modern art, to create an original cultural institution in the heart of Paris. This national art centre was created in 1969 on the Beaubourg plateau.
With the treasure hunt at the Pompidou Centre, you will be able to discover the Avant-garde's artworks of the first half of the 20th century in a playful way, at the time when art was moving towards modernity. A real time travel between Picasso, Matisse, Kandinsky, Dubuffet… and many others.
With Booster2Success, solve the mystery of the Centre Pompidou, while visiting this building which is one of the most original and popular in the capital. You and your colleagues are invited to participate in team building activities in this spectacular museum of modern art. You will be searching for clues to identify the artist behind the mysterious work that has just entered the museum.
To do this, you will need to be perceptive, observant and, above all, a real team player. A great opportunity to get everyone on the same page and solve this fascinating investigation.
» READ ABOUT – A playful and artistic team building in the heart of Orsay museum
Indoor team building in Paris at the Centre Pompidou: what you need to know
The indoor team building game is an original and fun way to explore a new corporate world. Ideal for strengthening the feeling of belonging to the same company through a team building activity. There is only one objective: to encourage collective performance by creating all the conditions required to have an excellent time with your coworkers!
Through a fun inquiry and thrilling puzzles, your co-workers will participate in a real game that will strengthen their team bond and leave them with great memories. Each participant has the opportunity to enhance his or her skills within the group while learning to work as a team.
If you want to motivate your employees or colleagues, or simply give them a change of atmosphere for half a day, come and enjoy the indoor team building in Paris at the Centre Pompidou!
– LOCATION: Centre Pompidou museum – Beaubourg
– SEASON: All year round, possibility of evening session on Thursdays
– DURATION: About 2 hours
– NUMBER OF PARTICIPANTS: 10 to 120 people
– LANGUAGE: French and English
Photo credit: Booster2Success
---
Booster2Success organizes team building events in Parisian museums.
CONTACT US for your next corporate event in Paris.