---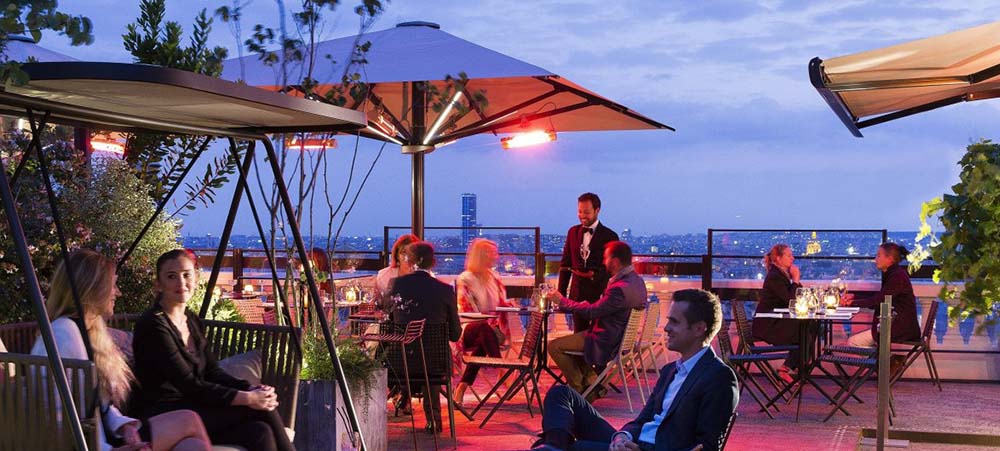 When the warm days have arrived and you're looking forward to spending time with friends or colleagues in the open air, it's always nice to have a few good places to eat in terrace restaurants in Paris. Booster2Success reveals its selection, note the addresses down right now!
Terrace restaurants in Paris with a view of the Louvre: Café Marly
Let's start our list of terrace restaurants in Paris with the famous Café Marly. This elegant restaurant nestled in the Richelieu wing of the Louvre will offer you a fantastic view of the courtyard and the pyramid. The Café Marly has a cozy interior decor and a charming exterior terrasse. Open from 8 am to midnight, you can come in for a drink or a meal! Why don't you have a break after a team building scavenger hunt in the heart of the Louvre museum? If you want more details about the Café Marly restaurant in Paris, have a look at our article on them.
» READ ABOUT – Arty immersion at the Musée d'Orsay during our adult treasure hunt in Paris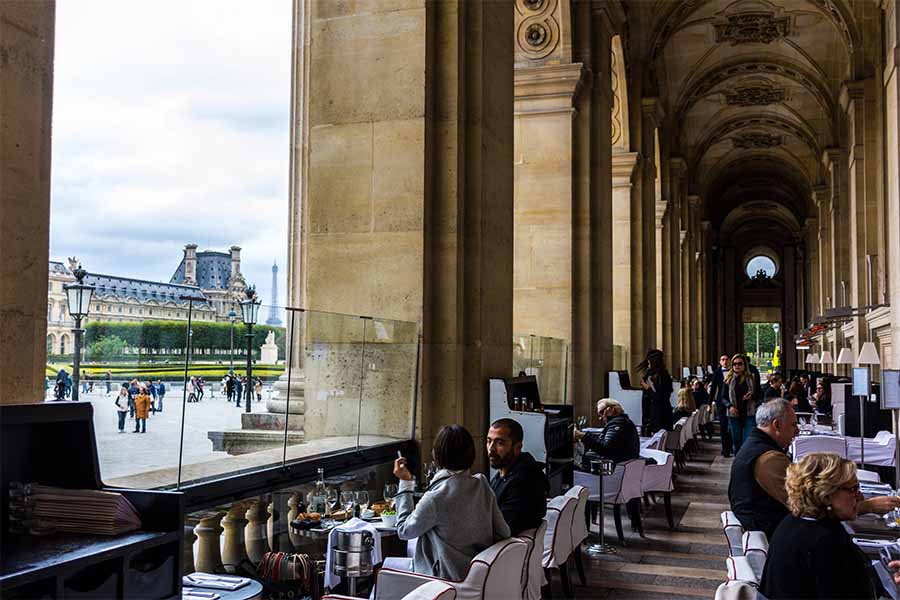 Le Chalet des Iles a little corner of paradise
Are you willing to go green? Then let's head to the Bois de Boulogne and the iconic Chalet des Iles. This terraced restaurant with a garden in Paris is very popular among the Parisian artists at the beginning of the 20th century. Creative artists such as the writers Proust and Zola that used to come to enjoy this amazing setting. Being on an island in the middle of Paris is a pretty unique lock-in itself.. It's considered as a peace of heaven where you can walk, eat, work, or meet your clients. Various terraces are available to take a well needed break from the frenzy of the city.
Be sure to enjoy the bar on the terrace before a business lunch (or with friends). The location is ideal for organizing a corporate event in Paris, to incentive and boost your team to success!
Livio restaurant: the charm of Italy in Paris
Now we're heading to Neuilly-sur-Seine (a chic Parisian suburb) to check out another from our selection of terrace restaurants in Paris: Livio. The place is named for founder Livio Innocenti, who came in the 1930's from Tuscany to live with his family in France. Instead of running away from Italian culture, he decided to set it up locally with his tasty cooking recipes. That's how this little trattoria quickly grew up and became successful. His sons later added a French touch. At Livio, every style and generation are coordinated and mixed. Today, Livio's grandsons, Pierre and Charles, still continue the tradition by offering a healthy cuisine with quality ingredients.

If you want to want to eat there, we suggest that you book in advance as the place is quite demanded! While waiting, you can have a look at their Instagram page!
Terrace restaurants in Paris: the emblematic Moulin de la Galette
The Moulin de la Galette is a unique terraced restaurant in the Montmartre district. To get to your forthcoming great meal, you have to climb to the top of the famous hill until you reach Rue Lepic. By the bye, the well-known singer Dalida used to live really near, and she was a regular at le Moulin de la Galette restaurant (her table is still preserved!). What's on the menu? A quality French Bistrot food. The cuisine is full of freshness and evolves as seasons go by. During the summer period, enjoy the terrace in the lovely flowery courtyard.
Afterwar, burn off those calories with a frenzied Montmartre adult scavenger hunt team building! If you'd like to get more information on the Moulin de la Galette, read our article in this piece on terrace restaurants in Paris.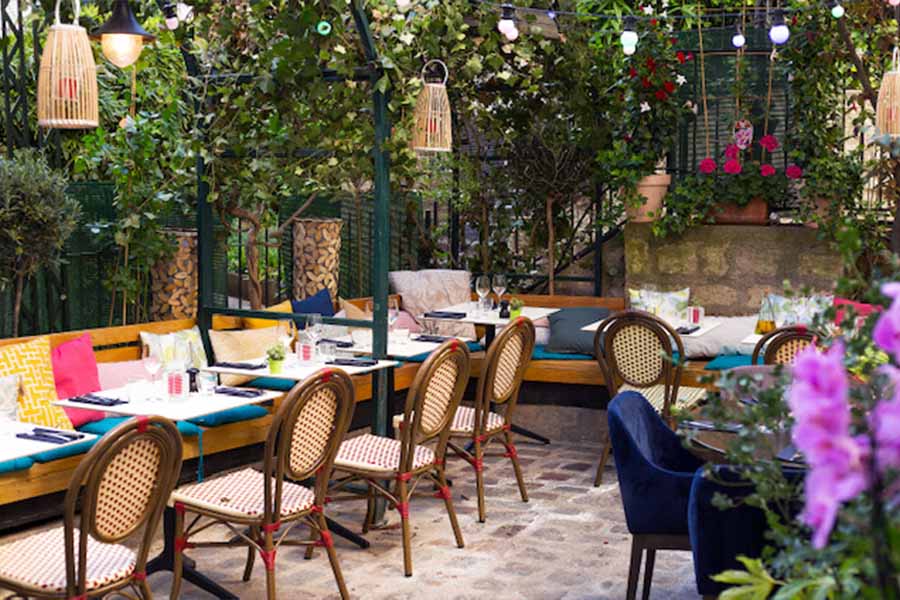 Splash bistrot: the sun in your plates
Moving forward on the list of terrace restaurants in Paris, we're heading to Asnières-sur-Seine (a Parisian suburb), to Splash, a restaurant created by chef Norbert Tarayre. Enjoy a summer day with a pool, a deckchair nearby. The two terraces have an unmissable view of the Seine and the péniches boats. Inside the interior, the decor is a mix of Art déco style and colonial with raw wood. The maximum capacity is 140 people, which is ideal to organize a corporate lunch with your company. Little extra during the summer period, the brazier next to the pool, to eat delicious grilled food. A festive atmosphere with bistrot style cuisine is guaranteed!
» TO READ ALSO – A traditional Parisian brasserie with a terrace open 24/7: au Pied de Cochon
An elegant Parisian rooftop: the Terrass" Hotel
We were, a bit earlier, on top of Montmartre hill, so your next destination will be at the bottom, and more precisely, on the seventh floor of a trendy hotel: the Terrass" Hotel. Once there, the first thing to do is to admire the 180-degree view of Parisian roofs. Discover the hotel restaurant offering a fine-dining cuisine with different options available at different times of the day: breakfast, lunch, dinner, or brunch on the weekend- all different. Enjoy the cocktails served at the bar and savour them on the panoramic terrace, it's perfect if you want to impress somebody! If you want more details on this magical place, have a look at our article. This is a must of hotels and terrace restaurants in Paris!
La Table du Luxembourg: an enchanting green parenthesis
To end our tour of the best terrace restaurants in Paris, let's have a foodie break in the famous Luxembourg garden. In the park, the former starred chef of the Lutétia Philippe Renard took up residence at la Table du Luxembourg. This gourmet restaurant has a spacious terrace where you can eat or have a drink at any hour of the day while enjoying the peaceful atmosphere. Just like the chef, come and enjoy a convivial moment with family, colleagues, or friends while tasting a generous cuisine. The place is also ideal in the evening for drinks after work in Paris!
Paris city of light and celebration has a lot of restaurants with terraces, but after a good meal, go for an urban stroll in order to discover the oldest monuments of Paris. A perfect compliment!
Cover photo credit: Le Terrass" Hotel©
---
Booster2Success introduces the best restaurants in Paris for an event near its team building scavenger hunt for adults in Paris.
CONTACT US to organize a corporate event in Paris.