---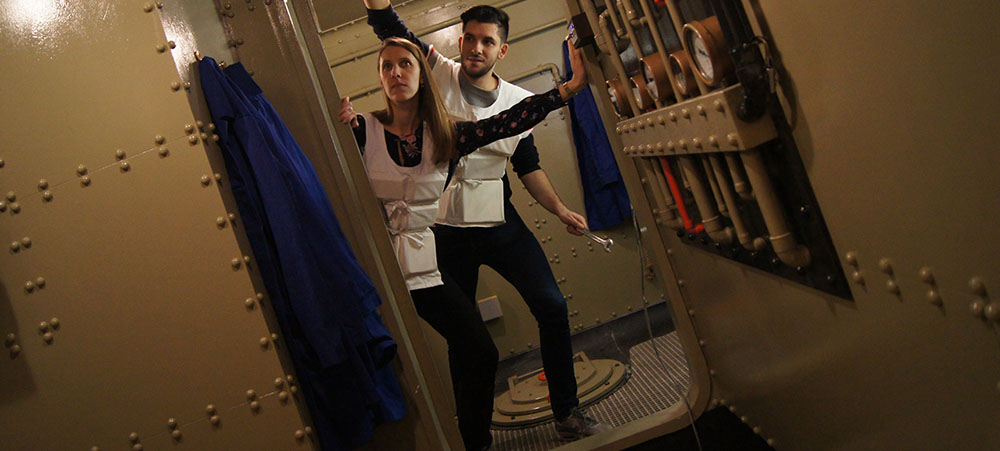 Are you feeling nostalgic for of one of the biggest blockbusters of all time? Do you dream of being the hero for an hour inside the sinking Titanic? You can do that. Enter the Majestic Escape Game, fulfilling your heroic fantasies by offering an immersive Escape Game Team Building experience recreating the Titanic sinking story. Calling all passengers young at heart and seeking adventure, everyone on board and everyone for themselves!
Unique Escape Game Team Building: Boarding on the Titanic Cruise
As you stow aboard the Escape Game Team Building mission on the Titanic, your special voyage takes place on April 15, 1912. Stuck below, you will have to get out of the engine room and access the upper deck to escape with your team of mechanics. And all of that in just 60 minutes.
It will be necessary to show team spirit and self-control if you do not want to sink faster than the real Titanic did!
Majestic Escape Game invites you to walk into the world of the 1912 luxury ship Titanic, where you'll find incredible atmosphere and immersion into the past. The slightly listing room reinforces the feeling that the boat is sinking and that it will be necessary to hurry to not stay there. The pressure is on!
» READ ABOUT – Corporate Team Building experience in Paris, around Louvre-Palais Royal district
Organization of your Escape Game Team Building mission aboard the Titanic
What's it like? After 15 minutes of briefing by the Majestic Escape Game team, you will head to the room with Hollywood quality decor for 60 minutes of game, then followed by a 10 minute debriefing.
Heroes and villains, the adventurous and the brave all have a role. What your left with is a lot of fun, memories, and stories as you work through team building techniques, team communication, and leadership strengthening. An Escape Game Team Building experience is a great way to build your team and is suitable for groups of 2 to 5 people.
Majestic Escape Game also offers another room on the universe of Atlantis, where it is possible to play up to 6 people.
Custom itineraries for teams and companies are available on request.
Majestic Escape Game – 2 rue Française 75001 Paris
Prices  for 2 players 48€ / pers. – 3 players 32€ / pers. – 4 players 28€ / pers. – 5 players 26€ / pers.
First session 10:15 am and last session 10:15 pm
Crédit Photo : Majestic Escape Game
---
Booster2Success is always looking for the best activities to share with its community. We organize our own Team Building treasure hunt in Paris suitable for any group size (from 8 to 100 people). Find out why customers always return for great experiences!
CONTACT US  to organize a corporate event in Paris or either in France.