---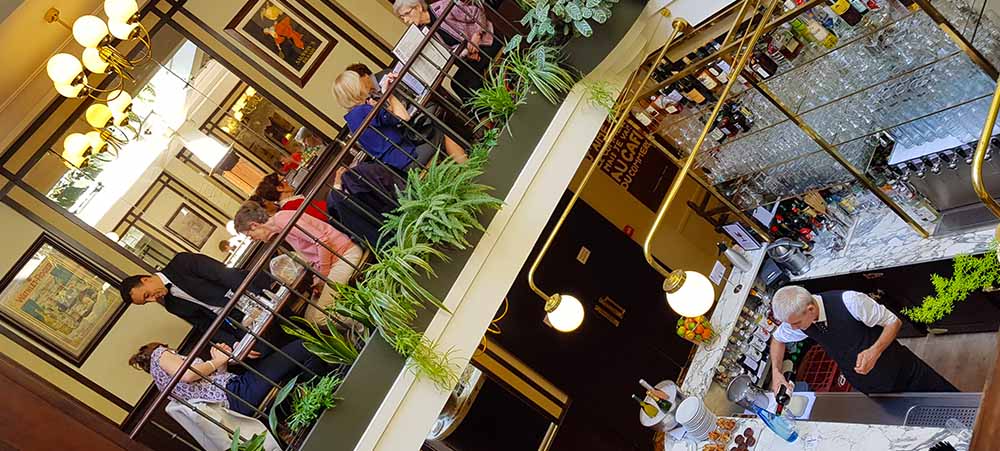 Head down the Rue du Commerce and you will find the famous Café du Commerce. Dating from 1921, this unique restaurant in Paris 15 welcomes small or large groups on its 3 floors. Simplicity, quality and friendliness are all on the menu – come discover this typically Parisian spot with us.
The story of this  unique restaurant in Paris 15

This unique restaurant in Paris 15, located on 51 Rue du Commerce, was originally a fabric store in 1920. It took a different path in 1921, becoming a single-menu restaurant, and became the canteen of the many thriving auto industry workers in the neighborhood.
This establishment, following the traditions of cheap Parisian bouillons, was famous during the second world war. The restaurant's owner at the time, Mr. Paul, proposed modest prices.
Marie and Etienne Guerraud, independent restaurateurs who have been longtime residents of the 15th district of Paris, took over this institution in 2003. They passionately select the best products, from meat, to bread, wine and even potatoes.
» READ ABOUT – Team Building activities in the Eiffel Tower District
The traditional cuisine in the Café du Commerce

The Café du Commerce, a unique restaurant in Paris 15, welcomes you on 3 floors decorated with plants and overlooking a glass roof.
Now, let's have a look at Café du Commerce's rich menu. A wide variety of typical French appetizers are offered – from the traditional mayonnaise egg, to French onion soup or the fresh goat cheese mushroom, stewed tomatoes and grilled toast. Seafood lovers will appreciate oysters, shrimps and very fresh whelks. 
Let yourself be tempted by the ray wing with butter, capers and croutons. For carnivores, go for the limousine rumsteak, commerce sauce and homemade fries.
To conclude with a dessert – for chocolate lovers, the profiteroles with warm chocolate sauce are a must!
To accompany your dishes, a wine list is also at your disposal.
Prices are around € 8.5 for starters, € 17.5 for entrées and € 8.5 for desserts.
Lunch is a great deal – on  Monday to Friday, a starter + dessert + coffee is offered at a price of 17.5 €.
If you wish to organize a lunch or dinner for an event of 15 to 300 people at this unique restaurant in Paris 15, the Café du Commerce offers a solution tailored to your needs.
51 rue du Commerce 75015 Paris
Reservation : 01 45 75 03 27
Photo credit: Booster2Success
---
Booster2Success selects, tastes and recommends the best restaurants in Paris for his worldwide community.
CONTACT US if you need any help and recommendation while traveling to Paris.