---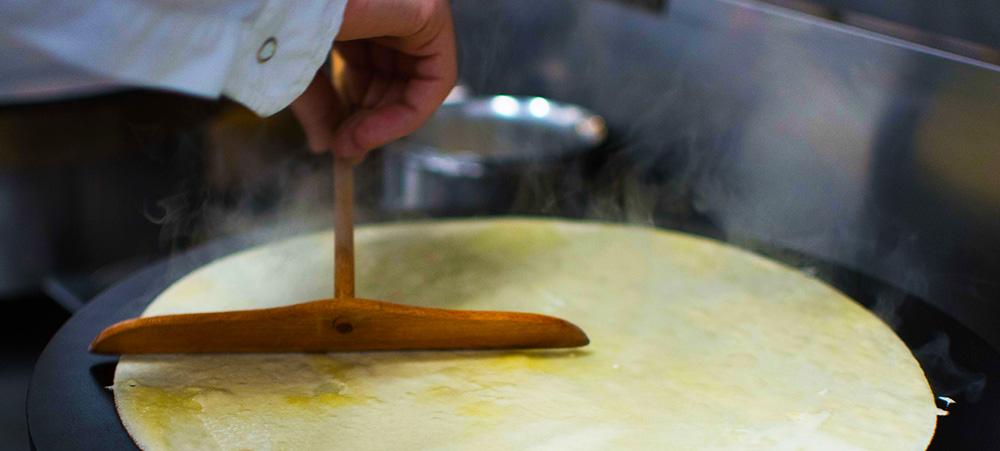 Just two steps from the Iron Lady: the Eiffel Tower, discover a crepe restaurant in Paris that's both fantastic and traditional. Inside you will find warm French hospitality and family restaurant. Hungry yet?… Let the gourmet trip start at Les Frères Bretons.
Les Frères Bretons: a family history

Close to the Eiffel tower, in the 15th district (arrondissement) of Paris, two maitres-crêpiers (crepe master in French) settled to open their kitchen. This crepe restaurant in Paris has a family history behind it that makes it that much more delicious. The two brothers (Alexis and Benjamin) came from Bretagne, a region in the west of France where crepes originated.
Three years ago they decided to quit everything and start a new journey, training to become chef and crepe-masters. As soon as they got their diplomas, they opened their first crêperie (crepe restaurant in French) near the Eiffel tower. They named it "Les Frères Bretons": the Breton brothers (in French), as referred by the Bretons: the inhabitants of Bretagne region.

The two brothers' crepe restaurant in Paris became an immediate success and locals from the 15th district of Paris have selected Les Frères Bretons as their favorite crêperie ever since. Not a bad recommendation!
» READ ABOUT – Two step from the Crêperie, a touristic team building in the Eiffel tower district
Crepe restaurant in Paris serving product coming directly from Bretagne region
As the brothers tell it, the products come directly from small producers of the Bretagne region such as the sausages, flour, cider and caramel.
Recipes at Les Frères Bretons are frequently changed and all are spectacular! Each crepe or galette (the savory version with buckwheat flour) is unique and the quality ingredients and their crepe-master technique makes all the difference. Our French team members love this crepe restaurant in Paris, and you will too!
The two brothers have partnered with Uber Eats for crepe deliveries right to your door! Perfect for days you would rather eat at home or work. Bon appétit!
French Crepe restaurant Les Frères Bretons – 117 Boulevard de Grenelle, 75015 Paris
Crédit Photo: Booster 2 Success
---
Booster2Success is always looking for the best restaurant spot in Paris for its community. We also organize touristic team building event for companies.

CONTACT US to benefit from our services during an event or a special occasion.