---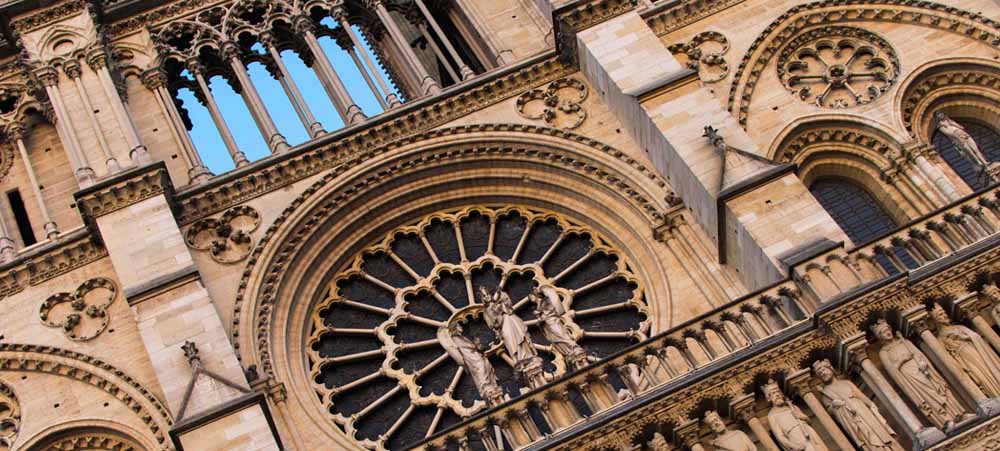 After a visit to the majestic cathedral of Notre Dame in Paris, you may want to take a break and have a good lunch. That's why we are offering our choice of the best restaurants near Notre Dame. Follow the guide…
The oldest restaurant in Paris: Le Procope
Let's head to Le Procope, this iconic Paris restaurant was created way back in 1686. The place is full of history and a lot of famous writers or intellectual people used to go there. For example, Benjamin Franklin and Voltaire were said to have had coffee (when it was new to the west) together at Le Procope! On the menu these days: traditional French cuisine, such as coq au vin, calf's head or beef cheek. The interior decor is unique and untouched by time. Here is one of the best restaurants near Notre Dame you should absolutely check it out…
Le Procope – 13, rue de l'Ancienne Comédie 75006 Paris
» READ ABOUT – Cultural team building in Paris – Notre Dame district
Le Grenier de Notre Dame a vegetarian restaurant in Paris
Created in 1978 by Daniel Boiseau, this family style restaurant was the first vegetarian establishment in Paris! Today it is run by his son: Laurent Boiseau, who will welcome you in a kind and efficient way. The restaurant buys all its ingredients from small producers. You should certainly try the mango-avocado tartare, the tomato and mozzarella millefeuille or carrots with cheese… So invigorating!
Le Grenier de Notre-Dame – 18 rue de la Bûcherie 75005 Paris
Voir cette publication sur Instagram
French tapas on the menu at Sourire restaurant
Let's continue our list of the best restaurants near Notre Dame with one that is located only 200 meters from the cathedral. This tapas bar will make you smile (even if you already were!). Indeed Sourire restaurant means smile in French. The cuisine is creative and uses only quality products. In this cosily decorated interior keep smiling and enjoy seasonal tapas. It's up to you to choose between the comté cheese croquette with honey sauce or the tuna tartare with mint cream. You could also succumb to the tempting sweet potato French fries with sourire sauce! They are so hard to resist, so why bother?
Sourire Tapas Française – 27, rue Galande 75005 Paris
Voir cette publication sur Instagram
Best restaurants near Notre Dame: Indian cuisine at Cinnamon
To finish our selection of the best restaurants near Notre Dame district, we will take you to Cinnamon. This restaurant offers Indian fusion cuisine. In its really elegant and colourful decor, enjoy some restyled dishes such as a naan (Indian bread) taco or burger! All the Indian classics you love so well are also on the menu; things like biryani (spicy rice dish) or the ultimately traditional tandoori chicken. Cinnamon restaurant also serves breakfast and brunch. We like it a lot so we are sharing!
Cinnamon – 41, rue Dauphine 75006 Paris
Voir cette publication sur Instagram
Cover Photo credit: Booster2Success
---
Booster2Success chooses the best restaurants in Paris close to its team building activities in Paris.
CONTACT US to get more information about us or organize an event in Paris.