---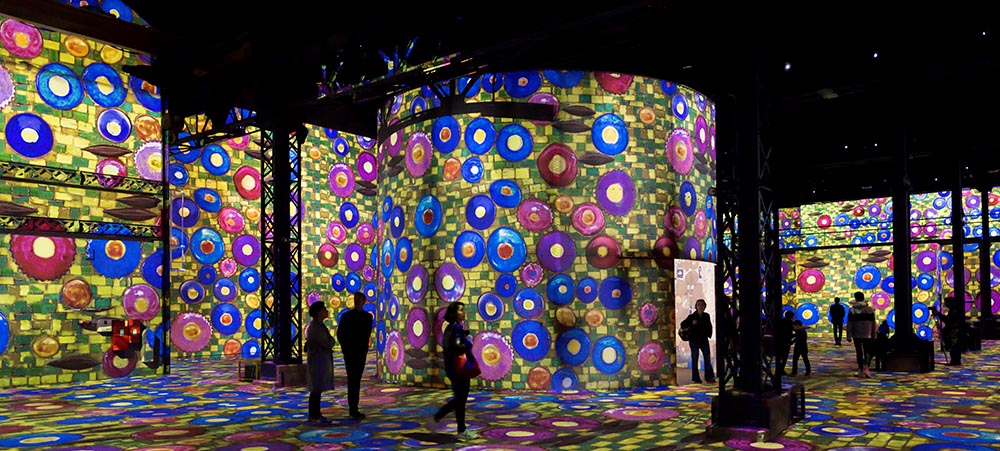 Paris city of Lights and world class museums. From the Louvre to the Pompidou Center, the Musée d'Orsay or the Palais de Tokyo, the list is long and the choices numerous. Among those you don't want to miss, be sure to visit the first center of digital art in Paris which just celebrated its opening. See this new type of revolutionary projection in the city of art: The Atelier des Lumières in Paris.
Atelier des Lumières in Paris: An immersive experience

Located in an old iron foundry created in 1835 by the Plichon family, the Atelier des Lumières opened his doors since April 13, 2018 under the artistic direction of Culturespaces.
The latest AMIEX® process is used here, as the Atelier des Lumières located  in Baux-en-Provence (a big success, more than 600 000 people are attending each year). Totally immersive projections are on display. Discover masterpieces from the greatest artists; and share a multi-sensory experience in a hall of over 1500m2. Thanks to technological breakthroughs: more than 120 video projectors and a spatialized sound system are giving full meaning to this center of digital art.
Bruno Monnier director of Culturespaces said  "it's a formidable vector of diffusion, able to create bridges between eras, to amplify the emotions and to touch the most people".
The Atelier des Lumières puts the spotlight on Gustave Klint
The first exhibition honoring the famous Viennese painter Gustave Klint is a success. Covering more than 100 years, landscapes come to life and you can discover, or rediscover Klimt's great works. Other artists such as Hundertwasser (Klimt student's) or Schiele among others are also exhibited.
The show is not only visual but also sound, as we walk to the rhythm of the compositions by Beethoven, Wagner or Strauss. Wooden seats are at your disposal to enjoy the show.
The first exhibitions is at the Atelier des lumières until November 11, 2018. After this date, new immersive programming would be released. Come with family and friends, on weekends or holidays, to enjoy this unique experience.
L'Atelier des Lumières: 38 rue Saint-Maur, 75011 Paris
Open every day between 10 and 18h, nocturnes Friday and Saturday until 22h
Full price: 14,5 € reduced price: 11,5 € young rate (5-25 years): 9,5 €
Photos credit : Culturespaces / E. Spiller
---
Booster2Success  is always looking for the best cultural activities for its community.
We also support companies for social networks animation as well as the creation of tourism SEO content and search engine optimization.
Contact us to benefit from our expertise or to get more information about our services.