---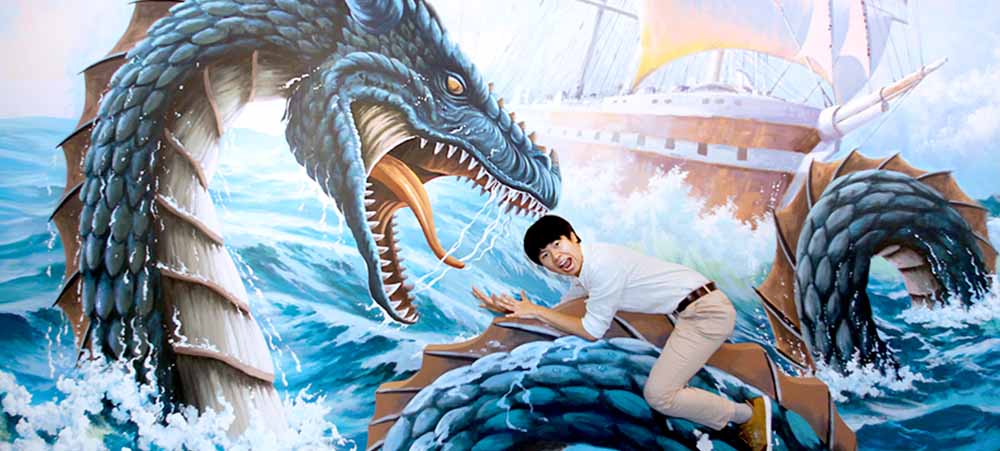 Let's travel to the South Korean capital to discover a one of a kind museum: the Trickeye Museum Seoul. Conveniently located in the trendy student district of Hongdae, this museum is the perfect place for an activity with friends and gives you the opportunity to create awesome photo memories! The Trickeye Museum Seoul is unlike any museums you've seen before, combining paintings with Augmented Reality (AR) that takes us into a museum experience for the 21st century.
The Trickeye Museum Seoul, what is it?

After a stroll through the Hongdae district, and having admired the K-Pop bands dancing and singing in the street, head over to the Trickeye Museum Seoul. Inside, large 3D optical illusion art exhibits await, where you can take crazy photos using the art technique 'Trompe-l'oeil' (Trick of the Eye) to create optical illusions, making flat paintings appear 3D! Try them by photographing yourself and then look at the result on your smartphone. It is recommended to go to the museum in a group to take pictures of each other, as the trick eye doesn't work in selfie mode!
The entrance fee to the museum is affordable (15,000 won adults / about 14 dollars and 12,000 won for under 18 years about 11 dollars) and the experience is worth the price, especially considering the truly unique great photos and videos you'll come away with.
An atypical museum, entertaining and in Virtual Reality!

Some eye tricks are more successful than others, but in general, the result is quite striking and fun! There are eye tricks to do alone and others to try with family or friends. You will also find reproductions of famous works of art to have fun with (Van Gogh's Starry Night comes to mind). If you prefer the thrill of the chase, get ready to be attacked by a dragon or chased by a Tyrannosaurus!
The latest addition to the Trickeye Museum Seoul's hi-tech experience is the introduction of Virtual Reality (VR). By downloading the free app, you can add special effects to your photos or videos, like getting blasted by dragon smoke! Experience a museum more immersive, modern and dynamic than any other you've seen before.
But wait! There's more! Included in the price of your entrance ticket, you also have access to the Ice Museum, a truly cool museum (and for an extra 8000 won / 7 dollars, the Love Museum – must be over 19 years old). Chill out in the -4C museum and slide down an ice slide (if you're a kid!), take in the fun themed ice sculptures, and check out the ice hotel complete with a bed, a sofa, a piano, and a toilet- all made from ice!
There are 4 Trickeye Museums in South Korea: Seoul, Busan, Jeju, Yangpyeong, one in Hong-Kong, one in Singapore, and another in Phuket, Thailand. If you do not have the time to visit the Trickeye Museum Seoul, you can experience the same entertaining spirit at one of the other franchises.
Photo credit: Trickeye Museum Seoul
---
Booster2Success is constantly looking for cultural and tourist activities around the world for its community of travelers. 

Contact us to benefit from our expertise or to get more information about our services.