---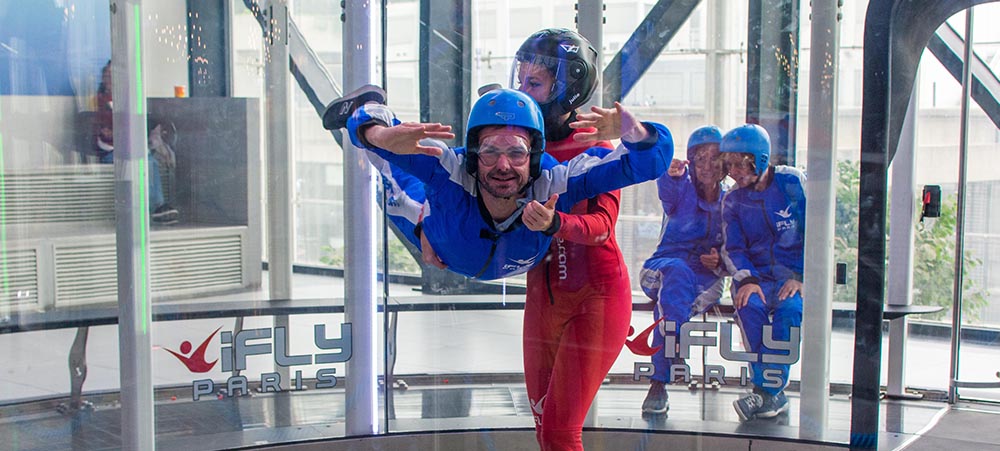 Are you looking for an original activity in Paris to do with friends or family in Paris? Do you want to organize a team building event but you don't have enough ideas? We have a tested fun activity that is impossible to feel indifferent about: the iFly indoor skydiving simulator in Paris!
You will certainly love the experience! Let Booster2Success make it easy to boost your team morale. Try a team building experience to start the new year: we have arranged a iFly skydiving event for your team they won't forget!
A breathtaking experience!
Follow us to iFly indoor skydiving simulator in Paris and experience a truly unforgettable sensation. This is the perfect group activity, allowing for varied group sizes. Don't worry! You will have 20 minutes of training to learn the correct moves and in order to experience this adventure. We have tested it, love it, and we highly recommend it!
» READ ABOUT – For larger groups discover our indoor team building ideas in Paris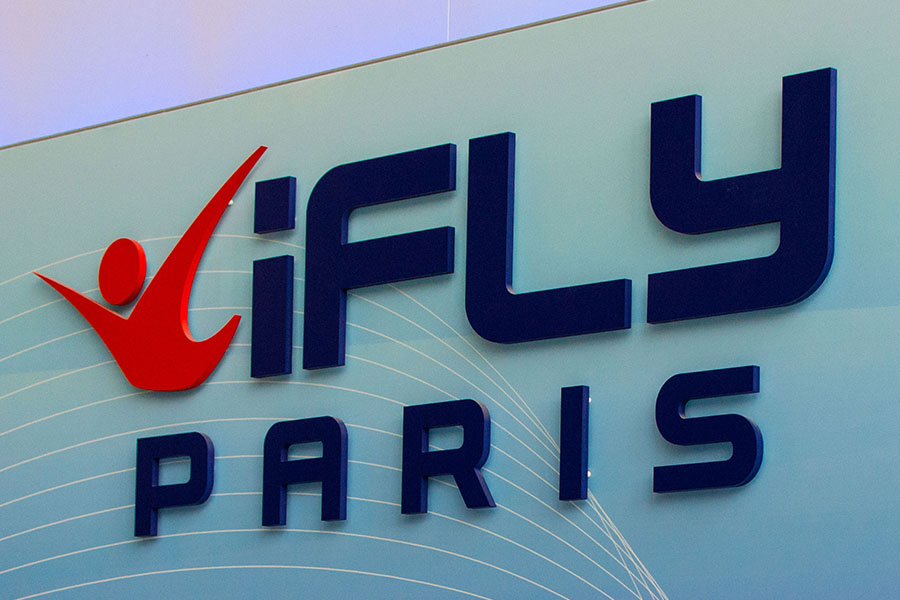 It is worth noting that the iFly center is one of the world's references in indoor freefall. This American brand is established worldwide, including in Australia, Brazil, Singapore… and in Paris, in the heart of La Villette area.
Good news! Guests with disabilities are welcome and will also enjoy the adventure. Instructors will guide and explain everything step by step.

For groups with more than eight people, we also recommend our highly reviewed team building activity nearby, in the canal Saint Martin district.
Let's take a closer look to the iFly indoor skydiving simulator in Paris
When you set foot at La Villette commercial center, you will immediately see the iFly stand. You can't miss it. There is a spectacular glass tube of 14 m high (46 ft), a 4m30 diameter wind tunnel (14 ft) and an open atrium with rows of seats.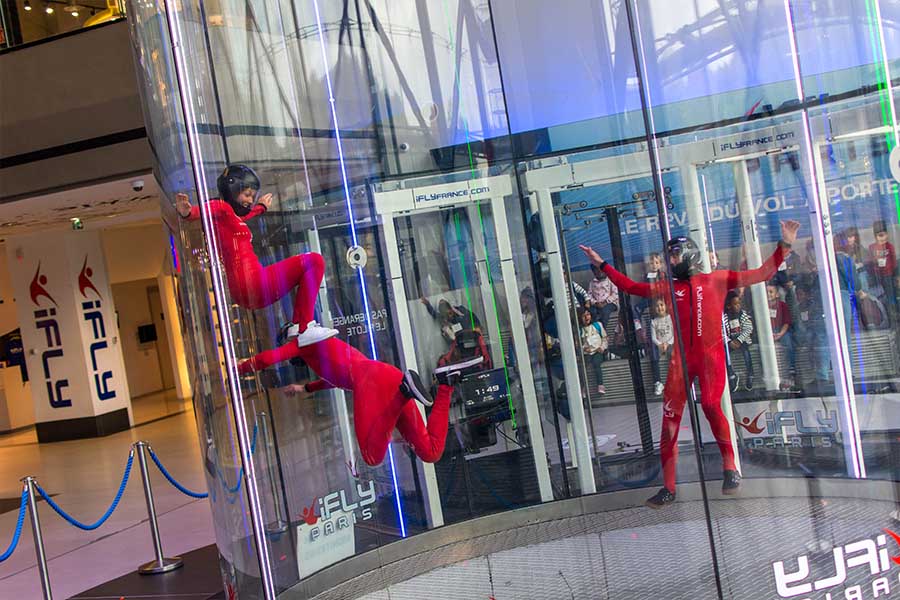 Our iFly free fall experience
On our first visit, our group of four got together for our maiden voyage with the iFly indoor skydiving simulator in Paris. Before starting, the instructor explains that indoor free fall is a safe sport before reassuring us that the safety equipment does its job well.
The safety instructions are clear: legs stretched, chin up and muscles relaxed! You will put on the tracksuit, goggles, helmet, and earplugs before stepping into the simulator. Get ready to fly!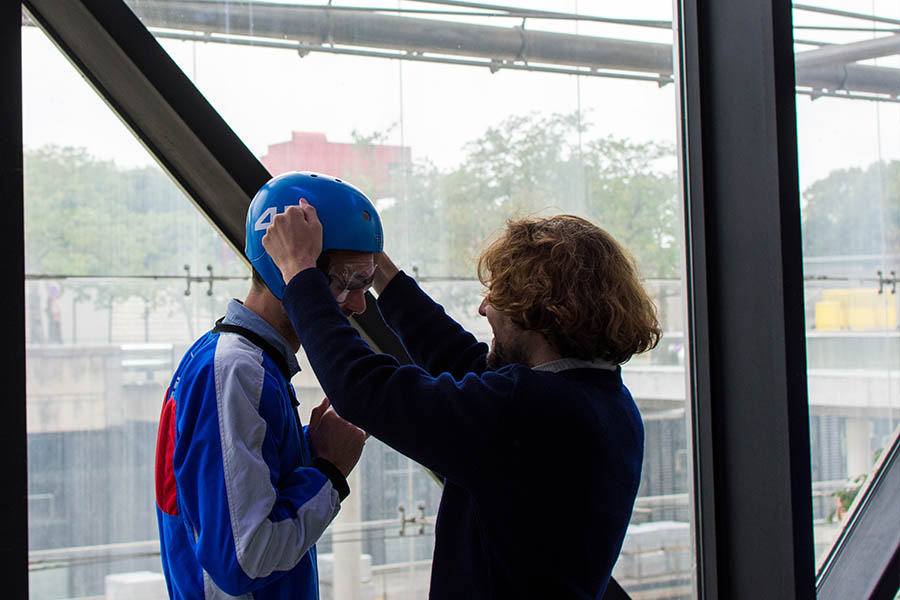 We throw ourselves in the tunnel, always supported by the instructor at first, before he let go of us so that we could fly alone. We quickly found our balance to enjoy this magical moment. The feelings are indescribable but so amazing!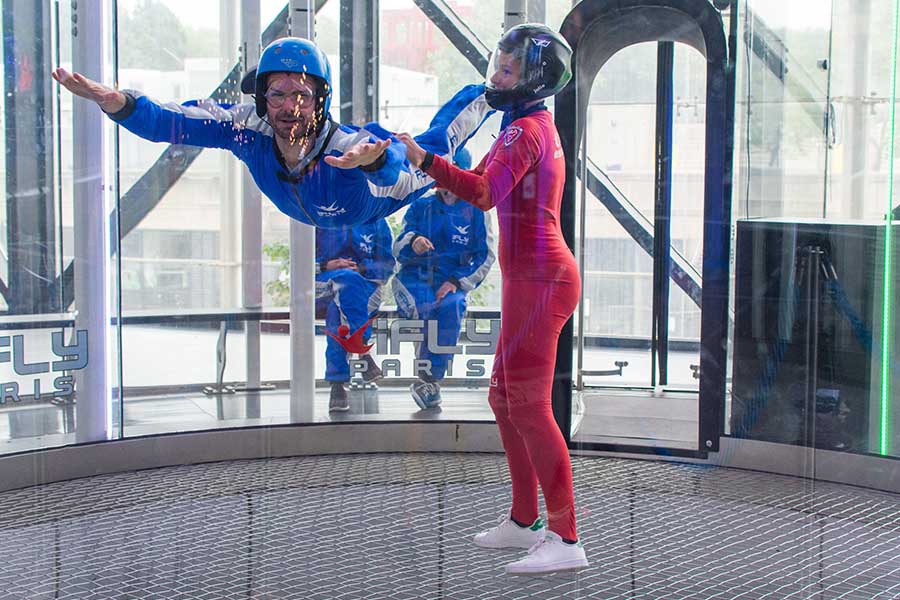 It was during the second session that we were able to experience the full range of sensations. Why's that? Because we could climb higher, guided by the instructor. A breathtaking experience!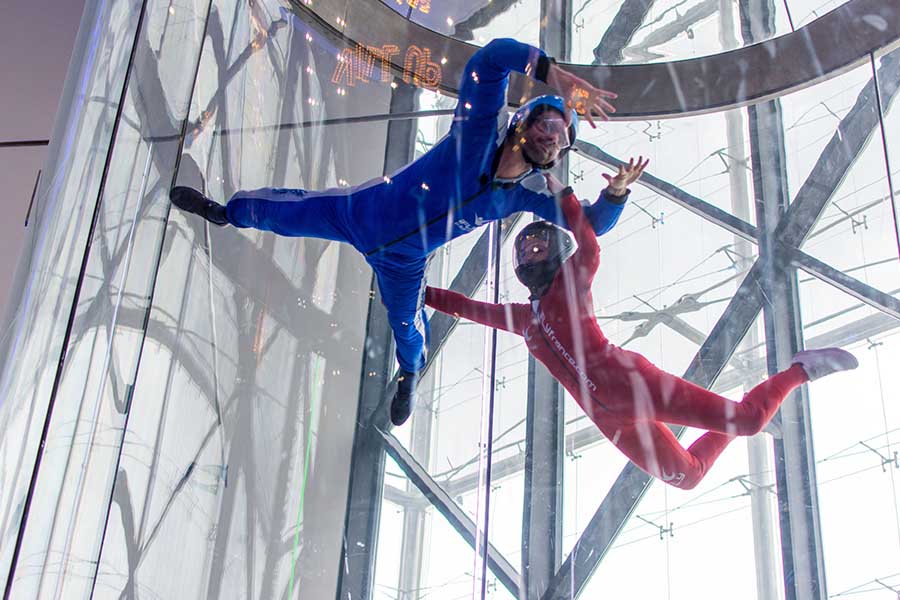 What about prices?
Regarding prices, iFly has offers for all budgets. For a free fall baptism, for example, it will be around 44,90 €. The brand also offers other packages, including preferential rates for initiated skydivers, as well as an hourly flat rate for more experienced people who wish to perform tricks and other acrobatics in free fall.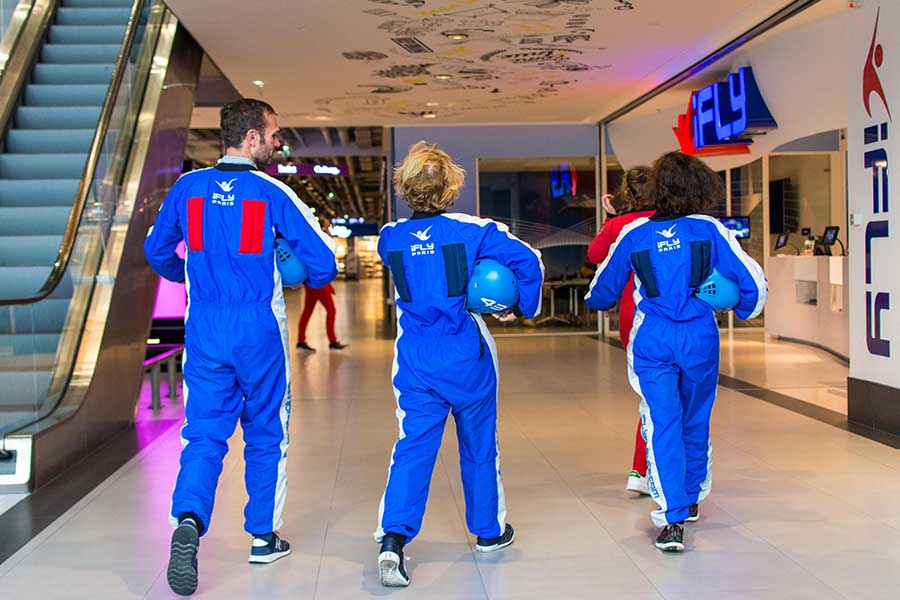 The indoor skydiving simulator in Paris is quite an adventure that you have to experience once in a lifetime. If you like the idea, iFly is the best place to try it. Go there with your eyes wide open, then jump with them closed! It's a unique experience everyone should have.
Photo credit: Booster2Success
---
Booster2Success creates its own playful scavenger hunt team building activities in Paris.
CONTACT US to organize a corporate event in Paris.