---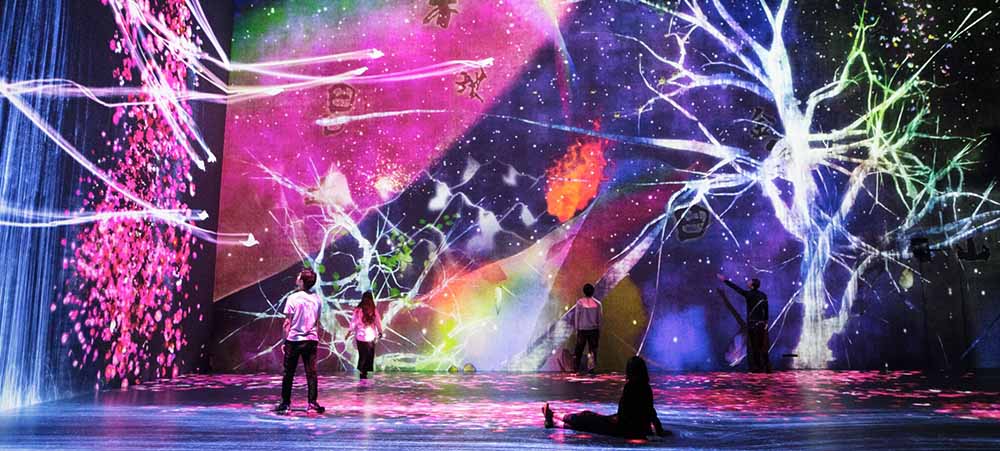 The year 2018 is dominated by digital art, as seen in the opening of the Atelier des lumières exhibition in early April and its revolutionary projections. The TeamLab collective, and its unusual exhibition in Paris  "Au-delà des limites", is celebrated in the great hall of the La Villette for 4 months, until September 9, 2018. The exhibition is an immersive, interactive and visual experience that you don't want to miss this summer.
A digital exhibition to commemorate the year France Japan

Organized within the framework of Japonisme 2018: Souls in Resonance, La Villette's great hall appealed to TeamLab collective to celebrate the 160th anniversary of diplomatic relations between France and Japan.
TeamLab, a collective from Japan formed in 2001, is the perfect ambassador reconnecting the cultures and affirming their relationship. Team Lab is known in the field of innovation and new technologies inspired by Japanese art. Digital is their creed.
In a gigantic room of nearly 21 000 sq ft, TeamLab immerses us in a digital setting, where the visitor is surrounded by 360° images. Through 5 hypnotic installations, the spectator is immersed in a world where one can interact with their surroundings: the water, the trees, the grass … every natural element comes to life and into the light. As every human being is different, the experience is lived in a completely individual and unique way. This is the collaboration that creates all the charm and the attraction of this unusual exhibition in Paris.
An unusual exhibition in Paris that changes our world perceptions

For TeamLab, "The borderless works transform according to the presence of people. As we immerse and meld ourselves into this unified world, we explore a new relationship that transcends the boundaries between people, and between people and the world".
TeamLab has managed to revolutionize our vision of the world and its surroundings. Here, the interaction of the public is no longer the order of reception but participation in the work of art.
To enter each room is to leave aside our traditional vision of the world, to think no more but first of all to feel and let go of each of our emotions.
You will not want to leave these enchanted sceneries, so do not wait any longer and go to La Villette to discover this most unusual exhibition in Paris.
This exhibition is open from Tuesday to Sunday from 10 to 19h until September 9, 2018, Friday and Saturday night until 10 pm.
Full price: 14,9 €
Reduced price and -26 years: 12,9 €
Family Pass (+ 5.3 € from the 3rd child): € 44.90
Also find our article on the atelier des lumières in Paris.
Photo credit: © teamLab Vues de l'exposition, teamLab : Au-delà des limites, 2018, Grande Halle de La Villette, Paris
---
Booster2Success constantly looking for unusual cultural and tourist activities for its community.
Contact us to benefit from our expertise or to get more information about our services.