---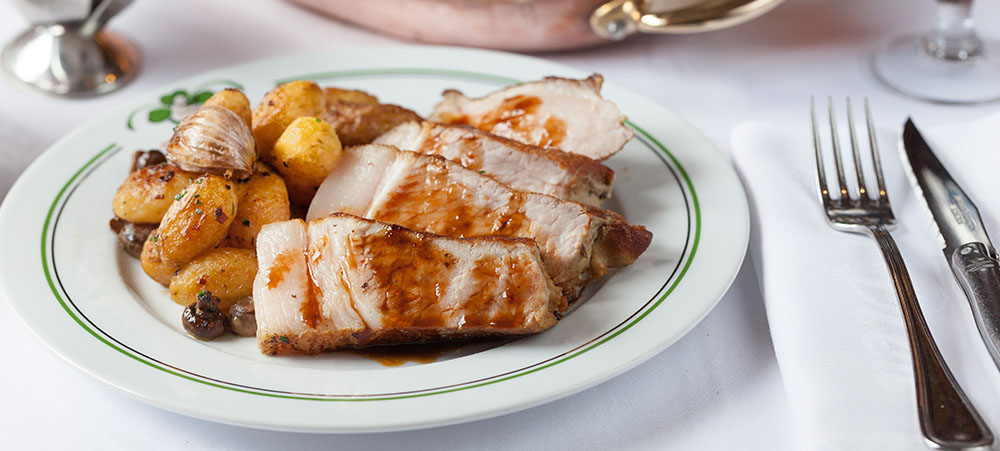 The traditional restaurant Au Pied de Cochon is located in the heart of the Halles district, in the center of Paris. Having been around for over 70 years, its a reference in terms of French cuisine in Paris. The atmosphere is a classic brasserie that Parisians, tourists, and celebrities have come to love. The menu reflects traditional dishes including pork meat (cochon in French!) but also a large variety of different classic dishes.
Open all night long, Au Pied de Cochon restaurant is a local gem festive destination in Paris. We were happy to review this classic restaurant in Paris, where traditional French food is enjoyed in a welcoming setting.
Au Pied de Cochon: in between a typical French brasserie and lively space
The restaurant Au Pied de Cochon is, before anything else, another classic Parisian brasserie, with a diversified menu to delight tourists (pork products, frog legs, entrecote, seafood platter…) while being very controlled. No wonder: since 1947, the restaurant has kept its menu and rarely makes changes in it. Moreover, its location is ideal, between Les Halles and the Louvre museum.
» READ ABOUT – Nearby discover our immersive team building program in the Marais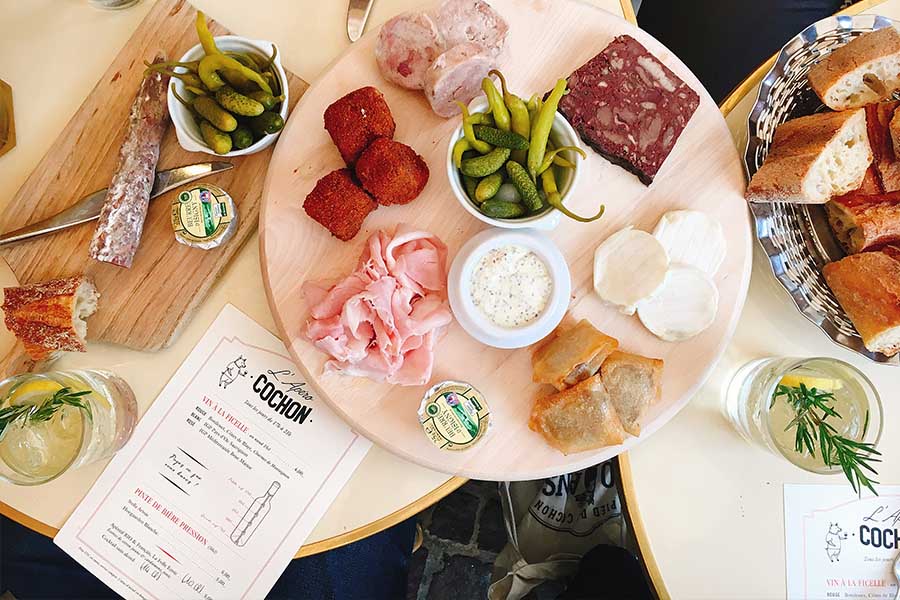 Au Pied de Cochon (pig's trotter in French) is much more than a traditional restaurant. It is also a lively place, with its "canaille terrace" (cheeky in French) and its afterworks that you can join at any hour of the night. The restaurant is open 24/7 for the pleasure of the lovers of sleepless nights. So you can eat there at any time of the day (and night) in an atmosphere worthy of the City of Light!
An ideal setting to enjoy French cuisine in Paris
Au Pied de Cochon restaurant stands out from other traditional brasseries serving French cuisine in Paris serving modern and traditional French dishes. The restaurant is located in a large house on two floors, offering a vintage interior decor mixed with a Belle Epoque one, in a chic and relaxed atmosphere. You should experience it for yourself!
In the summer you can also enjoy the "canaille terrace", which overlooks the Halles garden, where the atmosphere is even more convivial, especially in the evening!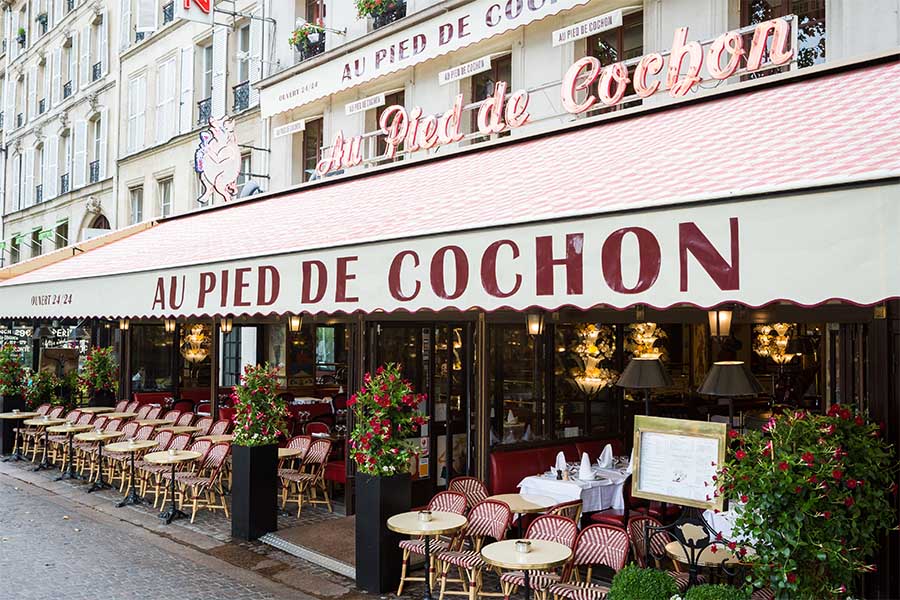 A diversified menu: from cooked meats to seafood platter
Au Pied de Cochon restaurant serves traditional and generous cuisine as delicious as the best French brasseries. Its diversified menu will please a large variety of people from pork lovers to the veggies. The platter from le Pied de Cochon is one of the stars of the menu. The cooked meat platter (to share or not!) is made of traditional products of excellent quality. The restaurant gets its supplies from famous butchers such as Eric Ospital (ham, chorizo, terrine, dried sausage…). Happy seafood lovers will be happy there with the fresh and delicious seafood platter.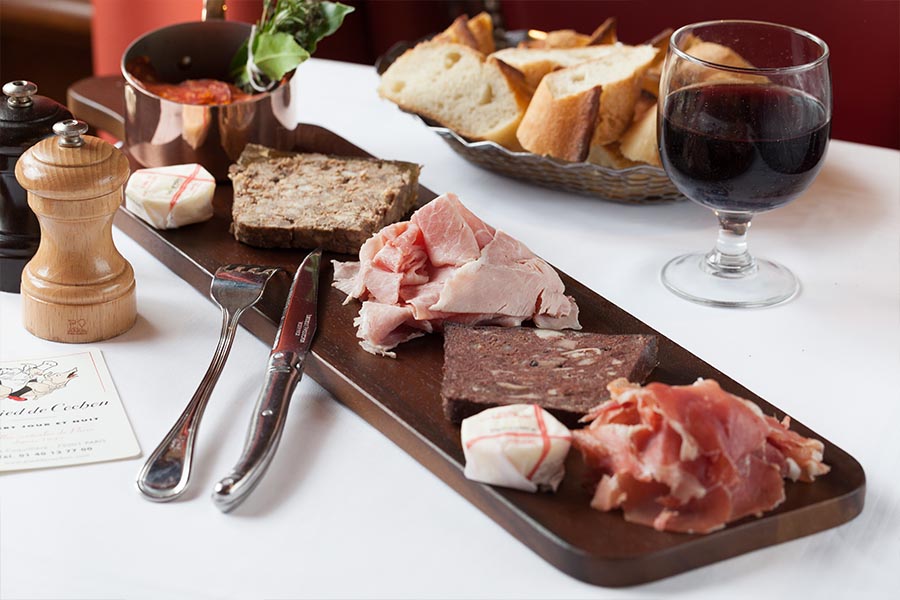 Fans of traditional French cuisine should seek out the pig's trotter with bearnaise sauce, the beef entrecote or the andouillette served with French fries. On the restaurant menu, you can also enjoy classics like escargot or pig croquette with whole grain mustard cream. Delicious!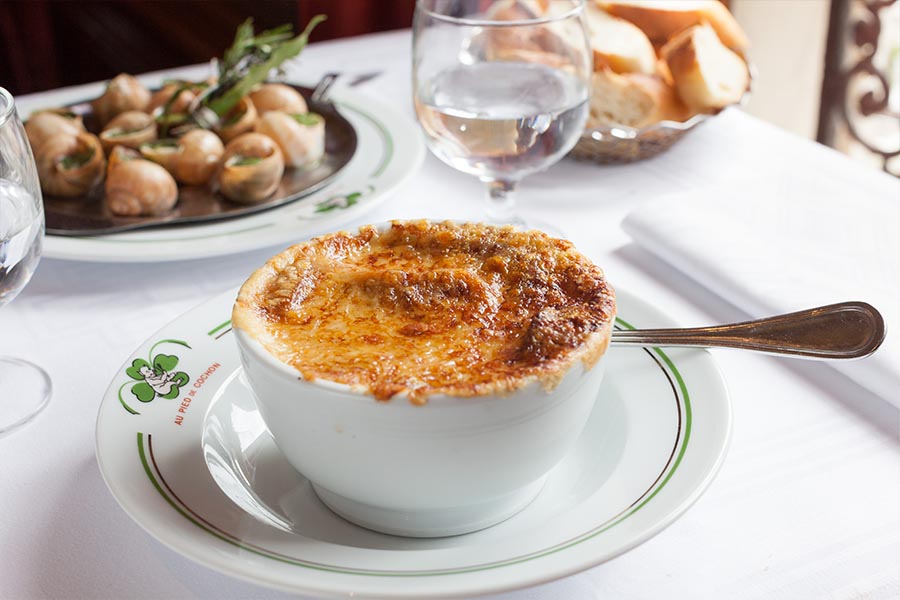 French cuisine in Paris: a dessert and l'addition s'il vous plaît
For dessert, we recommend the rum baba and the chocolate profiteroles, classical dishes of French cuisine in Paris that we never get tired of, and that the chef makes them to perfection!
The budget for an à la carte meal at Au Pied de Cochon restaurant is about 50 € per person, beverage excluded. And if it's fully booked? We can suggest the Café Marly restaurant, located a few minutes from the Louvre and Palais-Royal district. If you are a veggie, have a look at our selection of best vegetarian restaurants in Paris.
Photo credit: Au Pied de Cochon restaurant
---
Booster2Success introduces you to the best restaurant for an event near its team building programs in Paris.
CONTACT US to organize a corporate event in Paris.