---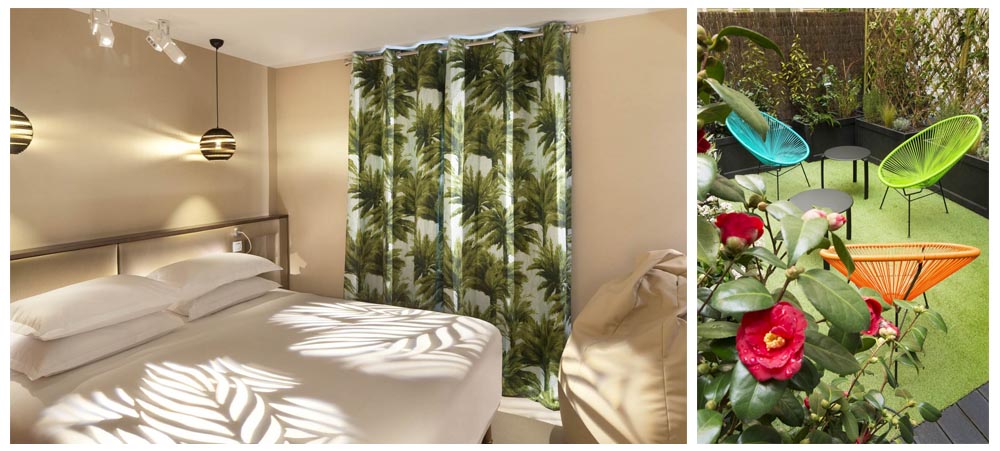 Once you've passed the threshold of the HOTEL EDEN PARIS' planted wall entrance, follow the floral path to your bedroom. Whether you are here in search of relaxation or a creative work environment, your desires will be catered to by the attentive staff.
The sensation of serenity and calm is common among the guests of this palace of peace.
---
HOTEL EDEN PARIS: the perfect combination of work and pleasure

Situated close to the Eiffel Tower, the Parc de Expositions at the Porte de Versailles, the Palais des Congrès, the neighborhood of Montparnasse, or Issy Val-de-Seine, the HOTEL EDEN PARIS offers proximity to the city's principal business districts.
Do you need to prepare for a conference? Don't hesitate to reserve the conference room. An ideal environment for work, your only distraction will be your yearning to lay back in the garden.
The hotel proposes:
A conference room for 12 people
Proximity with business hubs in Paris
Fitness equipment and a hammam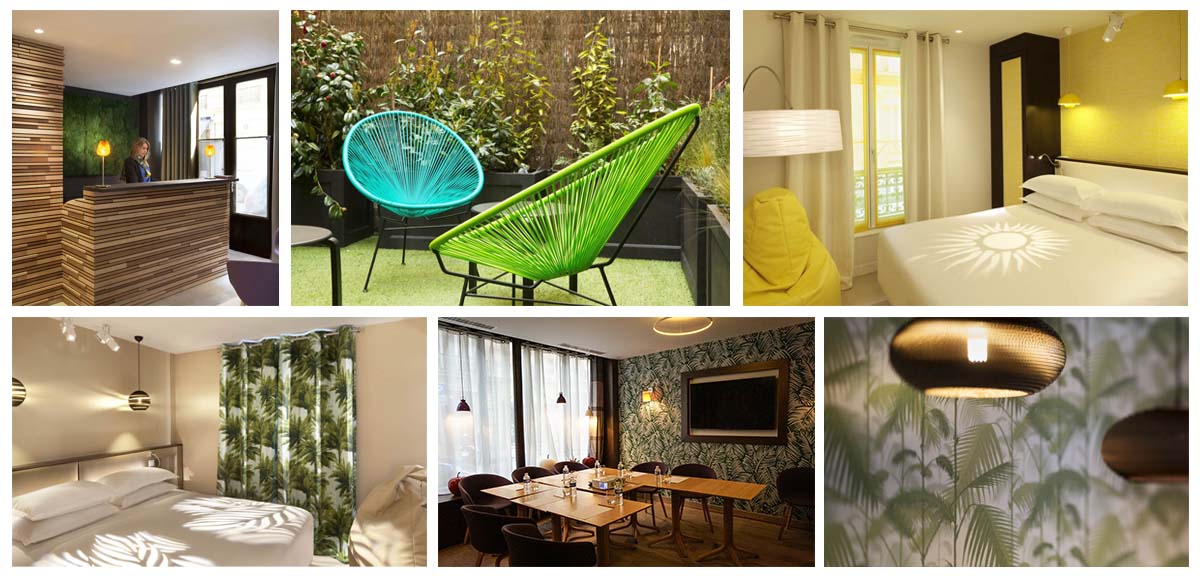 ---
HOTEL EDEN PARIS: a glimpse of paradise… in a lively neighborhood just steps away from the metro

The HOTEL EDEN PARIS would not be considered a true paradise without satisfying the appetite of your inner child. Give in to the delights of the garden of Eden, or feast on the energy of the lively surroundings, just a stone's throw away.
Discover an area abundant in fine-food shops and typical markets, restaurants and designer boutiques. Catch the metro at the Vaugirard station to cruise on line 12 towards the Opera to the north or the Montparnasse Tower to the south – the capital and all its surprises is yours to explore.
The essentials:
floral garden accessible year round
free and unlimited Wi-Fi connection
reception open 24 hours
---
HOTEL EDEN PARIS: feeling heavenly on all floors

"Palme" (Palm), "Plume" (Feather), or "Ecorce" (Bark), the 37 rooms of the HOTEL EDEN PARIS not only inspire themselves from nature, they embody all its diversity and magic throughout every floor. Different ambiances, each a bit tropical, tangy, and sun-kissed, offer you a peaceful sanctuary for unwinding and indulging. The meticulous choice of materials and lighting make the atmosphere rather mineral and woody, naturally adapting throughout the hours of the day.
By night, spoil yourself in the hammam and fitness room before returning to the private comfort of your room. The soothing silence rocks you to sleep, with dreams of Paris and tomorrow's breakfast in the garden.
---
Increase the value of your touristic establishment with Booster 2 Success. We are a Consulting firm, offering services in the fields of tourism and hospitality: brand identity development process, sales development, digital marketing strategy, yield management, audit and training.
CONTACT US
to benefit from our expertise or to get more information about our services.