---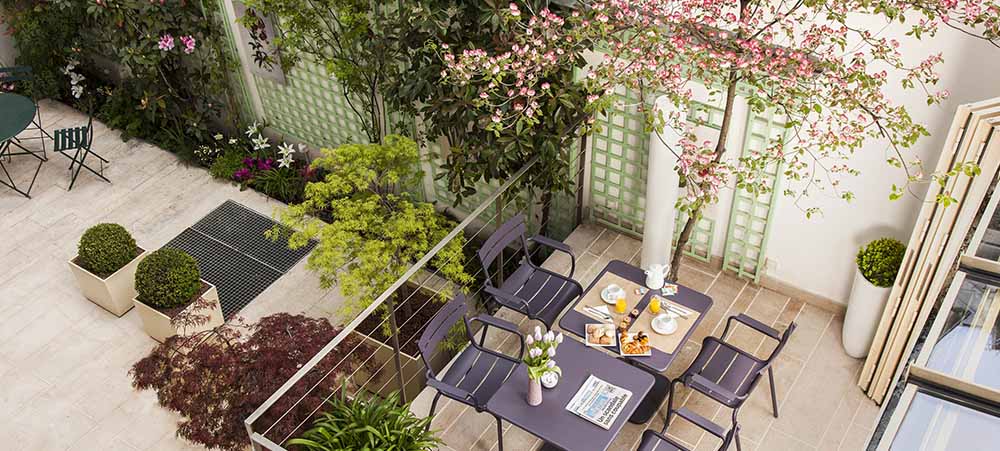 The district of Montparnasse is known for its rich cultural life and many great restaurants, but also it's a very wonderful place to live. It is less than ten minutes walk from Montparnasse station. Let's discover a unique hotel in Paris, named Mistral Montparnasse.
A new concept for this unique hotel in Paris: the Mistral Montparnasse

Pack your bags and relax in your new Parisian garden … welcome to the Mistral Hotel! This 37-room, 3-star boutique hotel offers a new concept for this unique hotel in Paris. Indeed here everything is thought to make you feel at home. Besides your comfortable room, you can enjoy a pleasant garden. Serve a glass of wine or soft drink at the bar and sip it on the terrace. It's starting to cool? No worries, board games are waiting for you inside. The hotel staff will confirm this, the goal is to create a link between travelers, and that's what happens at Mistral Paris.
» READ ABOUT – Team Building activity in Paris 15th district of the Eiffel Tower
Voir cette publication sur Instagram
An elegant decoration and a team at your service
Discover the Mistral Paris Hotel's spacious rooms with elegant decor. Some overlook the garden, others on Rue de Cels, which has the advantage of being very quiet. All the comforts are there to make you have a very pleasant stay.
The staff waits for you on hand and foot and meets all your expectations. At the reception desk you will find an iPad to view the map of Paris, but advice and knowledge of the city made by the teams will make the difference. Staying in this unique hotel in Paris, will make you feel good and live like a Parisian!
Voir cette publication sur Instagram
The hotel Mistral Paris' rich history includes being the residence of the famous French writers Simone de Beauvoir and Jean-Paul Sartre in the 1940's. For the record, the mythical literary couple stayed in separate rooms so as not to detract from their inspiration. As you can see, staying at the Mistral Hotel is an inspirational experience to live!
Hôtel Mistral Paris – 24 rue de Cels – 75014 Paris
Photo credit: Hôtel Mistral Paris Montparnasse
---
Booster2Success is always looking for a unique hotel in Paris near its team building activities.
CONTACT US  if you want to organize an event or a team building in Paris.