---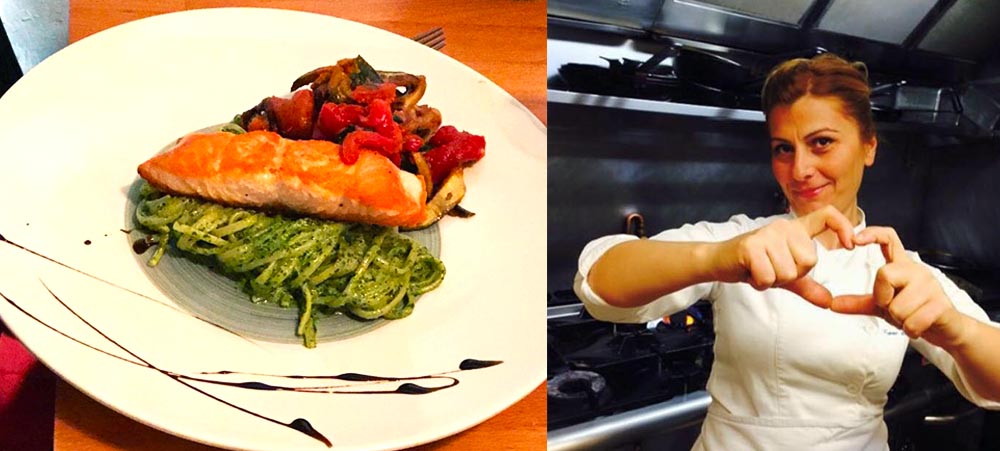 Nestled at the foot of Montmartre hill, 63 rue Lepic, breathes a little air of Italy. Oggi, an  Italian restaurant in Paris welcomes you for a gourmet trip full of rich color and farm-to-table flavor.
Oggi an unusual  Italian restaurant in Paris

After a visit in Montmartre (in the 18th Arrondissement), you're going to be hungry after walking the hills, so this taste of Italy is conveniently situated.
This  Italian restaurant in Paris is far from the hustle and bustle of Montmartre, located on quiet business and residential street. Grab a table on the terrace for fresh air and a warm staff will guide you through the specialties. If you want to dine indoors, you will find an open, light colored decor dining room, wooden tables and a cozy bar.
» READ ABOUT –  Original treasure hunt Team Building in Montmartre
Oggi sweet treat and friendliness

The native Italian chef will create her specialties from the Italian Alps region without need to travel to the mountains. You won't find pizza here. No, this is a menu created from years of experience and very regional in taste. Start with the eggplant gorgonzola crostini or the rich creamy fresh buffalo burrata and grilled peppers. Outstanding! For the main course, try ordering the hard wheat al dente pasta, the house gnocchi alla sorrentina (tomatoes, mozzarella and pesto) or the ravioli with porcini mushroom pâté and truffle. A rich experience paired well with their wine list.
For rich meat dishes in this Italian restaurant in Paris' Montmartre neighborhood, try the Scaloppina parmigiana, the veal escalope, the smoked provolone (Italian cheese) and eggplant, or let them take you down other paths. You won't get lost. It's all good. And for desert? Excellent roasted mango or tiramisu still provide great memories and dreams of future visits with friends and family.
For a romantic dinner or after a stroll with friends, stop by this  Italian restaurant in Paris  located in the 18th, if your looking for Italian cuisine worthy of the rich neighborhood outside.
Oggi – 63, rue Lepic 75018 Paris
Photo credit: Oggi
---
Booster2Success selects, tastes and recommends the best restaurants in Paris for his worldwide community.

CONTACT US if you need any help and recommendation while traveling to Paris.