---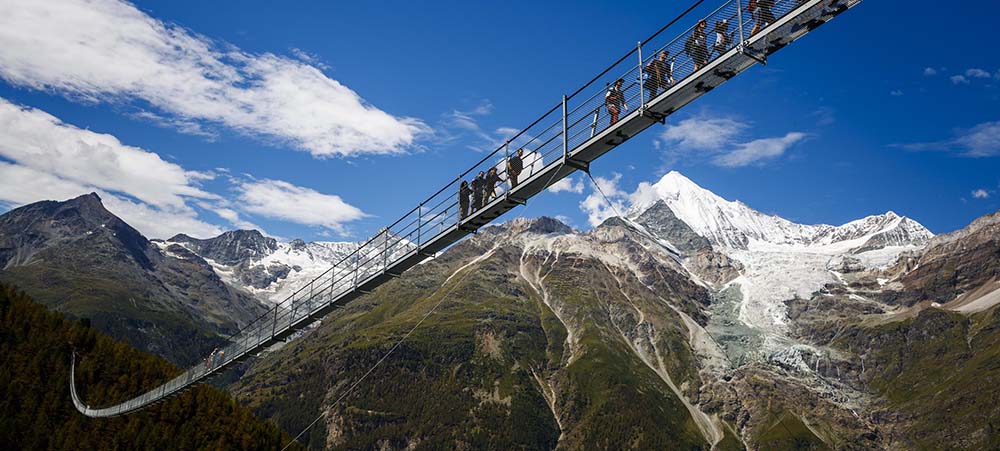 Today we're going to get off the beaten track! We'll discover a very special hike in Switzerland on this trip. Have you heard about the longest suspension bridge in the world? It is located in the Swiss canton of Valais, along the route connecting the towns of Grächen and Zermatt called the Europe Trail (Europaweg). Hike along beautiful vistas and incredible panoramas.
The bridge's history and this unusual hike in Switzerland  

The Charles Kuonen suspension bridge is located, at the foot of Switzerland's Dom Mischabel mountain (the 3rd highest peak in the Swiss Alps culminating at 4545m). Inaugurated last July, this impressive structure has a great view and avoids a 1000 meters of trail! An older bridge had to be closed in 2010 because of landslide risks.
The municipality of Randa then realized a decline in tourist attendance because of the difficulty of hiking without the old bridge. The city met the challenge and built the new structure, raising funds mainly from private sponsors. The future was born!
The hiking trail on the longest suspension bridge in the world!
Located at the Randa City Station, the trail loops around 8.7 km with a difficulty rating of medium. Start your hike in Switzerland across a beautiful forest of arolles trees. After reaching the panoramic point "Hohtschugga" (1749 m),  you will see the famous bridge. Passable from June to September, it is the longest pedestrian suspension bridge in the world at 494 meters long (and only 65 cm wide). It will take you about 10 minutes to cross it, but if vertigo is your challenge, you might want to reconsider (indeed at its highest point, the depth of the chasm reaches 85 meters!).  At the end of the trail, the route will take you back to the town of Randa.
Still have energy to burn? Make a detour to the Europahütte hut. This building made from the original architecture and is built on stilts! If you're looking for adventures and beautiful panoramas, plan a hike in the Alps region during your next trip to Switzerland and you'll see why this is such a special place to visit.
Photo credit: Europaweg – Valentin Flauraud

---
Booster2Success always seek the best tourism activities in the world for its community.

We also offer tourism companies tourist content creation services, translations in several languages and community management services.
Contact us to benefit from our expertise or to get more information about our services.