---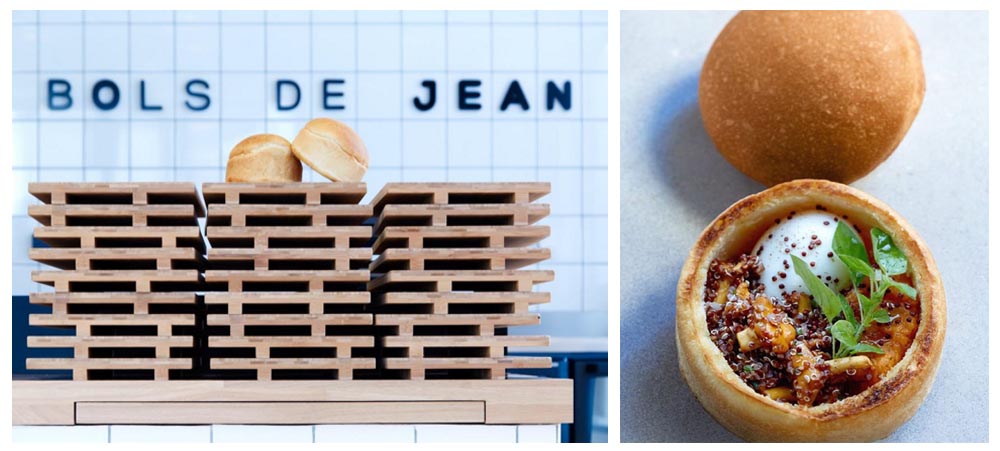 Feeling a bit peckish or starving, a meal on the go or more intimate, when lunch time comes and you are sick of sandwiches… Booster 2 Success presents a whole new innovative and creative concept of cuisine in Paris: Les Bols de Jean, with in command a chef who is making his way among the "big boys". Follow us in this gastronomic getaway – our stomachs are crying hungry.
Les Bols de Jean: a new creative concept of French cuisine
Located at the intersection between rue de Choiseul and rue Saint Augustin, Les Bols de Jean is a discreet restaurant on the outside but with a pleasant and sleek design inside. To create, the chef Jean Imbert and to design the artisan baker Eric Kayser. Their 3-year cooperation or so gave birth to these charming little buns slightly toasted in the shape of a bowl.
After being warmly welcomed at the entrance, it is time for the chef's refined cuisine, French and elaborated with fresh and local products. The menu proposes 5 different bowls and a special menu of the day.
Voir cette publication sur Instagram
The most famous bowls, according to the waiters and our real gourmet stomachs, are the "Bol du chef", made with Aubrac beef, stewed eggplant and onions, tomato sauce, browned white sauce – how delightful it tastes in our mouths! – or even the "Bol de Bretagne" (dedicated to the chef's birthplace), composed with buckwheat salad, ham off the bone, soft-boiled egg and bacon mousse, which is very appreciated by the Asian clientele. A subtle mix of smooth, crunchy and spicy. Tasty!
This dish evolves according to the chef Imbert's ideas and culinary inventions.
Prices range from 11€ to 13€ and 14€ to 18€ for a complete menu "bowl, dessert and drinks". A particularly ovation to the unctuous and revisited apple pie.
» READ ABOUT – Unique team building experience near the Tuileries Garden and Louvre Museum
Voir cette publication sur Instagram
Les Bols de Jean: a new concept of restaurant that appeals Parisians
Very bright, the room is incredibly warm with a dozen of tables – on which the tray rotates via a smart clip mechanism – and a capacity of at least thirty clients. So, at lunch time, you really have to rush to get a seat. But no worries, the restaurant is open until 4 pm during the week.
The clients are especially trendy women, but men begin to follow their lead. The queue is rather impressive and people won't stop coming, which shows the keen interest of Parisians. Come early at lunch break if you don't want to wait too long.
Now that the chef is on every social network, specifically Instagram, it guarantees a growing success to the brand.
Voir cette publication sur Instagram
To summarize, "Les Bols de Jean" restaurant is a new concept of innovative cuisine in Paris. It is fresh, subtle and easy to eat on-the-go. Recipes are diverse and well balanced. An up-range fastfood that satisfies the gourmets as well as the choosey ones. A smart and creative cuisine for this new concept of fast food, but with a French style. Subtle and elegant!
Go and try quick… Thanks Jean!
Crédit photo: Les Bols de Jean
Find also an other culinary post about the most surprising restaurants in France.
---
Booster2Success is looking for the best addresses of restaurants near its team building treasure hunt in Paris.
CONTACT US
 to benefit from our services during an event or a special occasion.